Does American Horror Story Cult Connect to Hotel?
American Horror Story: Cult's Finale Almost Included This Huge Hotel Easter Egg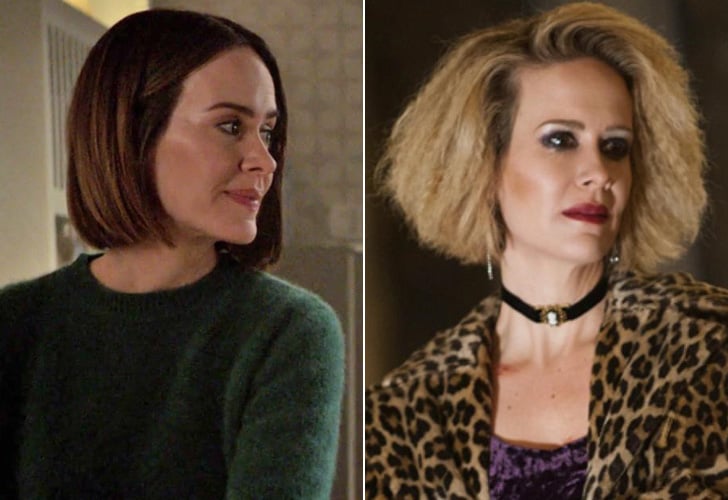 FYI: a few spoilers for the finale of American Horror Story: Cult are below!
Well, you guys, we did it: we survived American Horror Story: Cult's emotional rollercoaster ride of a finale. In addition to Ally's epic "nasty woman" one-liner and Kai's gruesome demise, "Great Again" also included a few nods to previous seasons of Ryan Murphy's anthology series. According to Sarah Paulson, however, there was one more Easter egg that didn't make it into the episode.
During an interview with Entertainment Weekly about the finale, Paulson was asked about that shocking Lana Winters name drop. "How genius? That to me was the greatest thing ever," she said of the reference to her season two character, a journalist who has herself committed to the season's titular Asylum in order to expose its inhumane practices. She went on to explain that during one of the finale's earlier scenes, shortly after the FBI raids Kai's lair and is hauling the fallen cult leader outside, Murphy nearly included another telling connection to a previous season: Hotel.
"We did do one thing. I don't know if they left it in there [editor's note: the scene appears to be cut]. Adina walks by and I went to light my cigarette, and I see [Kai] and I don't end up getting it lit till he crosses me and gets in the van, but then I lit it. The only reason I'm saying it is I used matches from Hotel to light my cigarette. It said Hotel Cortez. We were playing a dicey game. The props guys were like, 'Should we? Can we?' I was like, 'I think we should f*cking do that!' But if it's not in there, then it's not in there [laughs]."
Given how the Hotel Cortez is still around, there's a chance that Ally and Ivy might have stayed there before the events of the show. It wouldn't have been too weird, then, if Ally had popped up with a box of Hotel Cortez matches. That being said, Cult is pretty much packed to the gills with Easter eggs as it is, so yet another wink to longtime fans might have elicited eye-rolls. Let's all say a prayer that Ryan Murphy used some restraint, for once.