Dylan Farrow Open Letter
Dylan Farrow Pens Open Letter Detailing Woody Allen Abuse Allegations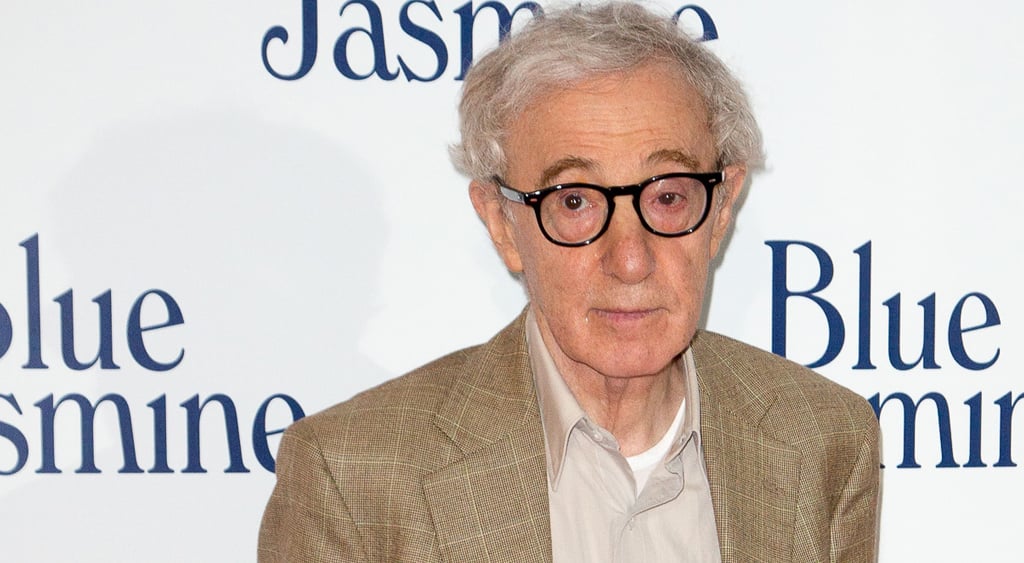 Woody Allen was honored at this year's Golden Globe Awards for his lifetime work. Diane Keaton, one of his original muses, accepted the Cecil B. DeMille Award on behalf of the director with a heartfelt speech. But soon those who once knew him best — his son, Ronan Farrow, and former partner Mia Farrow — took to Twitter to directly challenge the decision to honor him. Ronan tweeted out a serious message about Allen's alleged abuse of his sister Dylan when she was a little girl, which was recently reported on again in a Vanity Fair article.
Missed the Woody Allen tribute - did they put the part where a woman publicly confirmed he molested her at age 7 before or after Annie Hall?

— Ronan Farrow (@RonanFarrow) January 13, 2014
While many people know that Allen left Mia Farrow to marry her adopted daughter Soon-Yi Previn, this case has been largely forgotten. As the allegations made news, New York Times columnist Nicholas Kristof handed over his column to Dylan herself this week. First, he gave his rationale:
It's important to note that Woody Allen was never prosecuted in this case and has consistently denied wrongdoing; he deserves the presumption of innocence. So why publish an account of an old case on my blog? Partly because the Golden Globe lifetime achievement award to Allen ignited a debate about the propriety of the award. Partly because the root issue here isn't celebrity but sex abuse. And partly because countless people on all sides have written passionately about these events, but we haven't fully heard from the young woman who was at the heart of them.
Here is how Dylan began her heartrending letter:
What's your favorite Woody Allen movie? Before you answer, you should know: when I was seven years old, Woody Allen took me by the hand and led me into a dim, closet-like attic on the second floor of our house. He told me to lay on my stomach and play with my brother's electric train set. Then he sexually assaulted me. He talked to me while he did it, whispering that I was a good girl, that this was our secret, promising that we'd go to Paris and I'd be a star in his movies. I remember staring at that toy train, focusing on it as it traveled in its circle around the attic. To this day, I find it difficult to look at toy trains.

For as long as I could remember, my father had been doing things to me that I didn't like. I didn't like how often he would take me away from my mom, siblings and friends to be alone with him. I didn't like it when he would stick his thumb in my mouth. I didn't like it when I had to get in bed with him under the sheets when he was in his underwear. I didn't like it when he would place his head in my naked lap and breathe in and breathe out. I would hide under beds or lock myself in the bathroom to avoid these encounters, but he always found me. These things happened so often, so routinely, so skillfully hidden from a mother that would have protected me had she known, that I thought it was normal. I thought this was how fathers doted on their daughters. But what he did to me in the attic felt different. I couldn't keep the secret anymore.
The 28-year-old Dylan also made an appeal to those who support her estranged father, and called them out by name:
What if it had been your child, Cate Blanchett? Louis CK? Alec Baldwin? What if it had been you, Emma Stone? Or you, Scarlett Johansson? You knew me when I was a little girl, Diane Keaton. Have you forgotten me?
And finally, she spoke directly to his fans again:
Woody Allen is a living testament to the way our society fails the survivors of sexual assault and abuse.

So imagine your seven-year-old daughter being led into an attic by Woody Allen. Imagine she spends a lifetime stricken with nausea at the mention of his name. Imagine a world that celebrates her tormenter.

Are you imagining that? Now, what's your favorite Woody Allen movie?