Emilia Clarke Filming Dragon Scenes on Game of Thrones Video
This Is What Emilia Clarke REALLY Looks Like While Flying on Those "Dragons"
Daenerys Targaryen is, pretty much indisputably, the biggest (and most well-dressed) badass on Game of Thrones these days. Sure, Jon Snow isn't afraid to engage in a little hand-to-hand combat with some wights, but it takes a lot of guts to fly into battle on the back of a fire-breathing dragon. While the scenes of Dany doing her thing are thrilling, to say the least, what actress Emilia Clarke actually looks like while filming said scenes is way, way different.
Although the show has swimming pools full of HBO money at its disposal, no check will ever be big enough to get it a living, breathing dragon. Fortunately, it has VFX wizard Steve Kullback on hand; he revealed how they make it look like Clarke is truly on Drogon's shoulder in season seven's icy battle scene. "When Dany gets on and off the dragon, it's kind of like wheeling up the stairs to a 747," he joked. "We've modelled the dragon, and then laser cut this full-scale, giant piece of polystyrene to create a section of the dragon's back that is living on the island at the frozen lake."
Drogon? Is that you?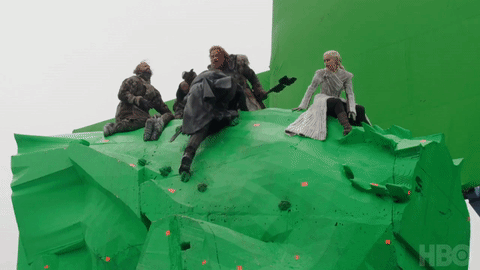 Give Clarke all the Emmys.