Emily Blunt Talks Bearded Little Men, Shakespeare & Her Favourite Elton John Karaoke Song At UK Gnomeo & Juliet Press Conference
Emily Blunt Talks "Bearded Little Men", Shakespeare and Her Elton John Karaoke Songs For Gnomeo & Juliet
Last week, Emily Blunt joined her castmates and producers from Gnomeo & Juliet to talk about the making of the animated movie, and I was there. Though Elton John and David Furnish sadly couldn't attend, Matt Lucas and Ashley Jensen sat alongside her and I'll have their interviews coming up! Emily looked stunning with her new lighter hair colour, and she wore a bright red dress and matching lipstick — her energy was infectious as she giggled with Matt while the others were talking! Here's what she had to say: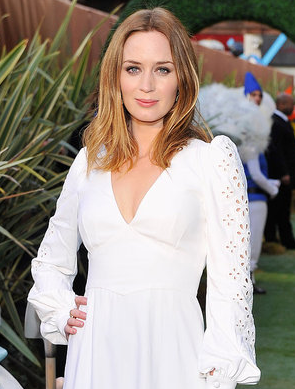 What was your initial reaction when you were told you'd be voicing gnomes in a Shakespeare adaptation?
EB: [Laughs] I was really baffled. I remember when I got the call from my agent, they were like: "Right, it's an animated movie..." I said: "Oh great!" And they continued: "It's called Gnomeo & Juliet." And then I went: "Oh my God! Really?!" I know... I was like: "Oh no!" But then I read the script and was so charmed by it that I went from going "Huh?" to "Ohhhh". It was really witty. And then I think meeting all these guys and seeing their enthusiasm for the project was really infectious to be around. It was a passion project for them. I'd never done an animated movie before.
What was the process of acting in an animated film like?
EB: It was very lovely in there in the sound booth by yourself. It's a strange discipline to learn because you don't look in anyone's eyes. You're just there trying to make your voice sound lively. I was amazed how flat your voice can sound when you don't have your face or expressions. So, the whole time Kelly [Asbury, director] was kind of encouraging me to smile and jump up and down and really over act. There was a lot of over acting involved for me.
Have you had any previous experiences of performing Shakespeare?
EB: I actually did play Juliet on stage. She was probably harder than this version but I absolutely loved it. I found it an extraordinary task to do Shakespeare. I'd never trained or had any previous experience with it. I remember after the first two weeks of rehearsals — I was staying with my Nana who lives in Chichester – and I came back just weeping and she made me a cream tea and said: "You'll be fine, you'll get there." And I did... by the third week it got easier. She makes really good scones! But the best thing about Shakespeare is when people forget their lines on stage and start improvising. I remember a scene with Friar Lawrence and the line is: "Be plain, good son, and hold me in thy drift; Riddling confession finds but riddling shrift." And he went [laughs]: "Be plain, good son, and homely in thy drift; … tre-le-le-le-le-le shrift." That was the most terrifying part of doing Shakespeare. If you try [improvising] you are f**ked!
To hear what Emily had to say about Elton John, the Britishness of gnomes, "defecting" to the US, and her favourite kids' film, just read more.
Do you have a favourite Elton John karaoke song to perform?
EB: I was quite pleased to do "Bennie & The Jets" karaoke-wise because I never understood the words before I got to see them come up. I was like: "Oh that's what he's singing!" But that song... I remember I was having a really rough day at school and my mum came to pick me up and it was on the radio. I remember that piano coming in and I was like: "What is this?" So, that's been my favourite for a while, but "Crocodile Rock" is awesome as well. I really feel that a good song can change your life. I think I've been a long-time subscriber to that. And I think the songs he's done over the years will live forever... they are timeless. A great song is a great song. I think everyone remembers the first time they heard an Elton John song and I think they have a feeling of nostalgia for people. So, it was lovely that it was another character in this film, because I think the story of Romeo & Juliet is quite nostalgic for people as well. It was just woven in beautifully with it.
Do you think gnomes are very British? Will they travel abroad?
EB: Well, I'm seeing gnomes in a different light. They are romantic, charming little things. Whereas before, when I was a kid, I was like: "Oh no, bearded little men in my garden!" But I think there's a really positive feeling about this film. I could feel it at the premiere. And I think that's really exciting. I think people on both sides of the pond are excited by the fact that it's a British cast and a British movie. I think you find a lot of Anglophiles in America... they really like the British way of life; they find it really fun, quaint and different. I think this is a really good representation of British actors hopefully doing what we do best.
How hard is it to maintain a career on both sides of the Atlantic? Have you encountered anyone that feels you may have defected?
EB: I think it's definitely possible. I work here [in the UK] a lot. But I know what you mean about moving to LA and some people sometimes see it as a snub. That's not the intention at all. I just married an American [John Krasinski]! But it is very possible and I feel great loyalty to the British film industry. I just finished one last year and am about to do another one this year. So, I really feel it's possible to do both and there's nothing wrong with doing both. I think it's alright to keep it diverse and do a bit of everything. That's the fun of it.
What is your favourite kids film and why?
EB: Oh my God... growing up I watched Old Yeller so many times. I wept every time.
Stay tuned for my interviews with Matt and Ashley coming up, Gnomeo & Juliet is released nationwide on Feb. 11.