Emma Watson, Daniel Radcliffe and Rupert Grint Return In New Trailer and Poster For Harry Potter and the Half-Blood Prince
Emma, Daniel and Rupert Return In New Harry Potter Trailer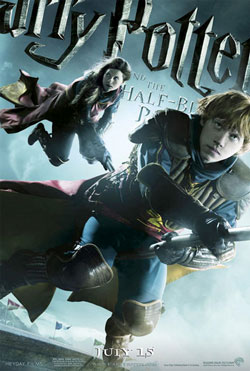 Harry Potter and the Half Blood Prince is out in a matter of months now, hitting UK cinemas on July 17, and an exciting new trailer and poster have been released to get us anticipating it even further!
Young stars Daniel Radcliffe, Rupert Grint, Emma Watson, Tom Felton and Bonnie Wright are all featured in the trailer, alongside Alan Rickman, Jim Broadbent and Michael Gambon as Dumbledore.
It's a dramatic and exciting look at the new movie, showcasing the dark themes and magical action that I've loved about the series so far.
So check it out and let me know what you think!