Emma Watson and Sofia Coppola Bling Ring Quotes
Emma and Sofia on the Real Bling Ring: "An Extraordinary Set of Circumstances"
Emma Watson and Sofia Coppola discussed their new film, The Bling Ring, today during a press conference at the Cannes Film Festival. The conference came after a morning photocall and before their big premiere scheduled to take place this evening at the Palais des Festival. The Bling Ring, which is out in the US on June 14, is based on the true story of a group of fame-obsessed teens who tracked the outings of celebrities — including Paris Hilton, Orlando Bloom, and Megan Fox — via social media and then robbed their homes. Emma heads a cast that includes Taissa Farmiga, Katie Chang, Israel Broussard, and Claire Julien.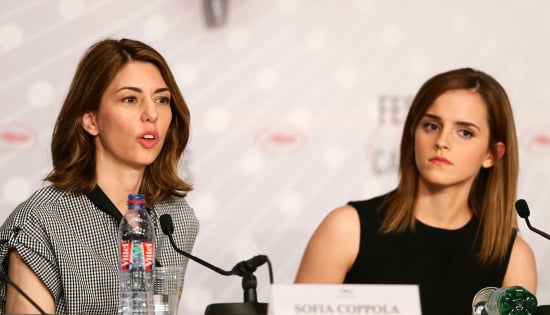 Today, the actors, along with Sofia, touched on the real story and the factors that made it possible for the burglars to locate and steal from the stars. Emma also reflected on what it's like being a woman in the film industry, and Sofia hinted that tonight's red carpet event will include a cameo from Paris herself. Here are highlights from the conference:
Sofia in Paris Hilton's rumored appearance: "Paris Hilton and them haven't seen it, but I heard they might be coming tonight."
Sofia on the robbers whose stories inspired the film: "We made a movie. I'm not too concerned about their reactions."
Emma on what it's like for women in the film industry: "I am young, and . . . from why I see, young women are at the helm of franchises I see coming out. We are forging a new way in comedy. From what I can see, it's a great time to be a woman in this industry."
Emma on the prevalence of social media: "I think it's amazing how self-aware people are becoming. . . . I think it's a shame . . . "
Sofia on walking a fine line in being inspired by their story: "I definitely didn't want to add to their celebrity because of what they did."
On whether or not the based-on-a-true-story film makes them depressed about the 20-something generation — Emma: "It was an extraordinary set of circumstances."
Sofia: "Knowing my actors gives me hope."