Excerpts From an Interview With Aaron Johnson Who Talks About Kick-Ass, His Fiancee Sam Taylor Wood and Caring For His Family
Aaron Talks Kick-Ass, His Childhood and Caring For His Family
Monday's Kick-Ass premiere was a big success with producer Brad Pitt showing up on the red carpet, and yesterday the cast were out for the Dublin premiere. Aaron Johnson arrived with his fiancee Sam Taylor Wood and this weekend he spoke to the Sunday Times about his family, his first stage role at the age of six, leaving school at 15 and his role in the movie. Here are some excerpts: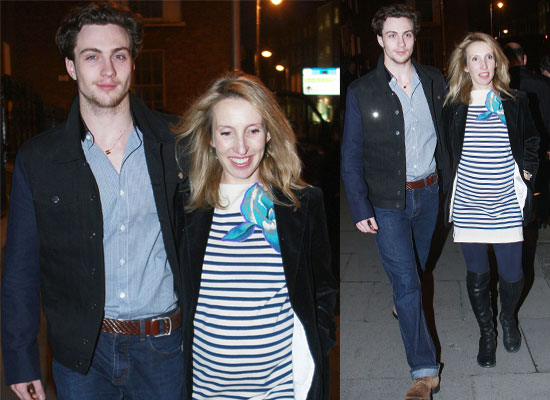 On career compromises: "See, I'm going to be a father soon, you know what I mean? Which is so wonderfully exciting, I can't wait for it. And I also know there are so many things I want to give my child. And maybe that means taking a job purely for the money. I hope not. But I've got a really good relationship with Sam. We have a great understanding for each other's work artistically, as well as knowing what's a creative piece and what's something that's going to be a commercial job that could possibly not be ideal for your career, but will bring in some money. Do what you love, and if you can keep doing the ones you love, they're often the ones you don't make much money from. But we support each other and keep things going."
On the press attention the couple get: "Things have gotten weird because there's attention paid to parts of my personal life I never signed up for. But that's the strength of me and Sam together. It's not only that we're trying to protect ourselves. We've got kids we're trying to protect, and our families at home. So it doesn't really faze me, because I don't think about it. I'm thinking about my home and kids and that, because that's what I enjoy thinking about. It's much nicer when you've got that grounding — that rock at home. And you run with it together and become a team."
To read what Aaron has to say about the similarities between his superhero character and John Lennon, his first stage role, and more — just read more.


On playing Kick-Ass and similarities to playing John Lennon: "Okay, he's hopeless, but the idea of going out and being something different — we all have that. We all want another persona to put on in front of girls or our mates. He's never even recognised at school. The feeling of being behind the mask, the costume — he feels it's easier. I see a lot of Lennon in that, and a lot of myself. You've got to be pretty strong to be happy with who you are. Lennon definitely takes on a great deal at an early age, fighting for the love of his aunt and his mother. Maybe his music was his secret power, the gift his mum gave him before she died. And from his aunt he learnt to put the barriers up. He had his mask and his costume. He was pretty bitter and angry, and he had to put on a front. Until he met Yoko and found a free spirit again. I get that. All you know is that there's a feeling inside you that feels right, like a puzzle, and when it's all put together, you can see it."
On his first stage role as Macduff's son in Macbeth: "I was working among adults, so I started to analyse and observe things. I used to go away filming — for instance, to Holland for six months when I was 10, living opposite the red-light district. Then I'd go back to this little village outside London and to a little school where nobody knew. I would never talk about it, so it was as if I had these two lives. I'm not academic at all, but I have been on set with adults asking me, 'What do you think?', 'How do you feel?', 'What's your opinion?'. I wasn't really cocky, but I guess I was always up for debate, because that was what I was used to. So I left school at 15 — and thankfully it was all right."
On his childhood: "My parents took me to gym, to drama, even to football, until I found it boring. Anything I loved. It was funny, I never ever talked about acting in school. Yet teachers kept saying, 'If the acting doesn't work out, you need a plan B. You need grades. You can't live off acting.' But to me, if you have a plan B, you design it so that you use it. You focus on that rather than on what you love and enjoy. So I've only ever had a plan A. And the best things in life are worth fighting for. That's all I can think."
You can read about more of Aaron's experiences filming Kick-Ass here!