Exclusive Interview With Chris Hollins and Ola Jordan Strictly Come Dancing
Exclusive: Chris and Ola Share Strictly Backstage Secrets!
I'm loving this series of Strictly Come Dancing so I was very excited to have the opportunity to put some questions to Chris Hollins and his professional dance partner Ola Jordan. From their favourite routine to the most challenging dance, who they want to see win, and which judge they'd most like to have dinner with, the couple gave me all the gossip from backstage. For more Strictly fun play my faceoff game, and check out Chris and Ola's secrets below.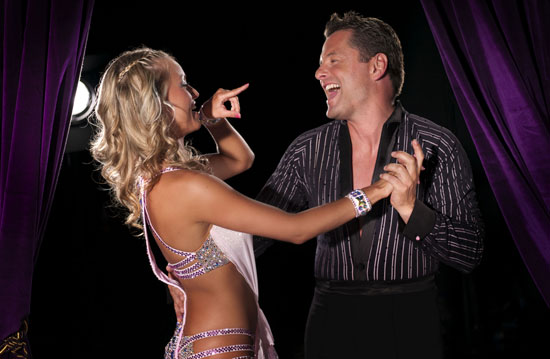 What's been your favourite dance and why?
Chris: It's got to be the rumba. it was my second ever dance and from the moment I started it I hated it, I didn't want to ever do it and gradually, slowly but surely I got into the mood of this romantic dance. And from the very first time that all our colleagues saw us do it we knew it was quite special. And then we got 30 points. Sadly never been near it since. Was it yours as well?
Ola: Yes, it would definitely be the rumba. I think we felt comfortable in the rumba and we had quite a lot of training before that dance.
Which dance has been the most challenging for you so far?
Chris: 1,2,3,4,5,6,7,8. Quickstep! The problem with fast music is that you've got more steps to learn.
Ola: And it's not even just that, there's a lot of kicks and movement and you've got to stay in a posture. It's just a difficult dance and I don't think it was Chris' dance.
Chris: The difficulty is if you forget something then it's practically impossible to get back into it. It's not like the rumba which is 1,2,3,4. If you miss something in the Quickstep it could be 16 steps before you can catch it up. I forgot 3 bits which is 3x16. That's quite a lot of steps. 48!
To find out which judge Chris wants to have dinner with, which couple he wants to see win the show, and to watch Chris and Ola's jive from Saturday, just read more.


If you don't win which couple would you like to see win?
Chris: Gosh that's a good questions isn't it. [To Ola] Shall we go for James? We'll go for James and Zoe. He's got to have some consolation for losing his wife.
Which judge would you most like to have dinner with?
Chris: Well, I'm going to look funny if I go to dinner with Bruno, Len or Craig but I would love to go for dinner with Len because I think he's got so many funny stories to tell. Yes, I'd go for Len as I think he's a real smoothy and I think he'd have a lot of funny stories.
What's the most fun aspect of Strictly and what's the most challenging?
Chris: I think the best thing about Strictly for me is the training with Ola. We have fun and you're doing something totally out of your comfort zone. Really enjoying just getting it. The worst thing about Strictly is having to perform it for me because you get everything right and then on Saturday you've got to show everyone what you've learnt and I find that really really tricky. Not the first week but since then I've found it really tricky not to panic. Most challenging is having to put it all together on Saturday night when you're nervous.
Thanks for sharing all the goss with us Chris and Ola, and good luck for Saturday!
To get more Strictly news visit the website and follow on Twitter.