Exclusive Interview With Ex-Editor Of Heat Mark Frith About His New Book The Celeb Diaries, Talks About Will Young and Take That
Exclusive: We Talk To Mark Frith About Tea With Take That
Ex-Smash Hits and ex-Heat editor Mark Frith has seen a lot of celebrities do a lot of things. I think it's fair to say his experiences of famous folk would wow even the most jaded reader – for instance, before Take That were big, they'd go to the Smash Hits offices and make the team tea! (NB: If any new boybands want to come and make me tea, applications to the usual address...) Mark's managed to put all the highlights of his career into one tale-filled tome called The Celeb Diaries (out Sept 4), so I fired a few quick questions off to him about his experiences. Here's what he said: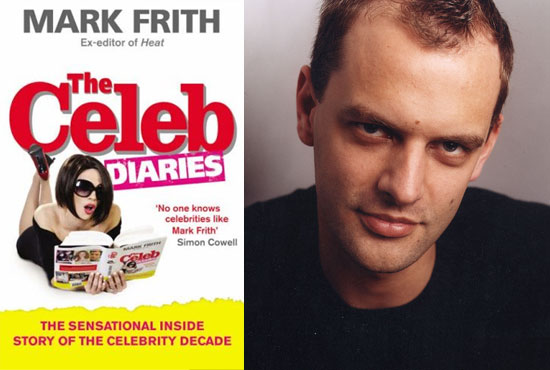 Many people, including me, have grown up reading your writing – from Smash Hits in the 90s, to Heat more recently. What do you think the secret behind your success is?
Firstly, I LOVE hearing about people who've read all three! I feel like I've really grown up with a generation of people: Those who read Smash Hits at 15 will have been 18 when I was editor of Sky and 25 during the peak of Heat three years ago – the typical ages of readership on those magazines. My philosophy is simple: it's all about what the readers want. Pure and simple, as Hear'say would put it.
You edited Smash Hits in your early twenties do you think you were ready for it?
It was scary at the time, but I guess I was ready (just about!). GUTTED when Kate Thornton became the youngest ever SH ed at the age of 22 – that was MY accolade!
Is there a memory from your time at Smash Hits that stands out for you?
Take That used to come in and make tea for us! That's how keen they were. (Gary was the organised one, unsurprisingly!)
Oh, I am so jealous! Did you grow up as a pop-culture obsessive?
Absolutely, especially early 80s pop music and big, popular entertainment programmes like It's A Knockout and Top Of The Pops.
To find out which British male singer isn't his favourite person, as well as his opinions on Nicola Roberts and Geri Halliwell, his reasons for leaving Heat, and how he dealt with difficult celeb situations, just read more.
Who were your favourite celebs when you were a kid?
I guess celebs as we know them now weren't really around then. It will have been the pop stars of the day: Clare Grogan, The Human League...
Classics! Why did you decide to leave Heat and write the book now?
I'd been at Heat for ten years and that's quite enough – I didn't get the same excitement from it that I did before. The celebrity world got too dark for me: Amy, Britney, Kerry… this was meant to be fun!
While you were there, what were the biggest ethical dilemmas you faced?
There was one every day! Reporting the horrific weight loss of US celebs in a responsible manner.
Tell me, who's the nicest celeb that you've met?
Geri Halliwell! She told me I'd be good father material. I blushed. Turns out I was! (Although not with her.)
That's so sweet! Who are your favourite celebs these days?
Nicola Roberts, Zoe Ball and Posh.
Were you disappointed by anyone's nastiness?
The stars less so. Their publicists and agents… all the time. Although as you'll see from the book Will Young isn't too nice at times…
But he seems like such a nice boy, how did you deal with not-so-nice celebs?
Hear what they have to say, commit it to memory for a future book… then run away.
What do you think people would be most surprised about in the world of celeb journalism?
How much money people get paid by OK magazine for interviews.
What do you think of the growing number of celebrity sites on the web?
[They're a] nice celebrity top-up to keep you going until Tuesday arrives!
Diplomatic! Did you ever want to be famous yourself?
For a while when I was 21 or 22 I did, but not now.
How about these days – do you fancy being a cover star?
I'm very shy so it would be weird (but I do have a book to promote so…)
What have been the best and worst moments of your career so far?
The best: My first award. The worst: My first legal letter!!
And finally Mark, what's next for you?
A lie down.
Thank you Mark, it sounds like that will be a well earned rest! Following our September Must-Haves, Mark's also been kind enough to make up a list of his very own Must-Haves, so stay tuned to read about those later in the week. His book, The Celeb Diaries promises to go into much more detail and is out on September 4th.