Exclusive Interview With No Heroics Star Rebekah Staton About The New ITV2 Series Starring James Lance and Patrick Baladi
TV Talk With No Heroics Star Rebekah Staton
There's a brand new comedy series starting on ITV2 tonight called No Heroics, which is about a group of superheroes living in London. Rebekah Staton (State Of Play) stars in the series as Jenny / She-Force, alongside other familiar faces such as James Lance (Teachers), Patrick Baladi (The Office), Nicholas Burns (Benidorm) and Claire Keelan (Nathan Barley). I recently caught up with the rather lovely Rebekah to talk about the series, here's what she told me: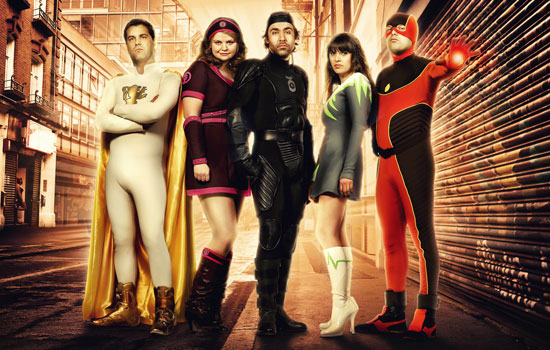 Hey Rebekah! Could you tell us a little bit about it and your fellow superheroes?
Hello PopSugarUK, lovely to speak to you! No Heroics is about a group of superheroes and what they get up to when they are off duty — in short they meet in the pub! This gang of pals grew up together and like most mates get together in the pub at the end of an evening to discuss the day's events — only the events these guys talk about are a little different to normal people because they're superheroes!
How does Jenny/She-Force fit in to the picture?
Jenny is one of the sweetest people you could meet and the voice of morality and good taste. She loves her friends and wants to be there for them. Jenny would love a normal life - and desperately wants a boyfriend, marriage and children as soon as possible. I think it's fair to say she is quite desperate! She struggles with being a superhero, and is not interested in fame as the others are. She'd just like to settle down.
I love your She-force costume, but did you prefer Jenny's clothes or the costume?
Well thank you — it's a tough choice — I loved my Su Pollard glasses and my tank tops, but being dressed as a superhero was hilarious.
To read more of my fun interview with Rebekah, just read more.
Do you think She-Force enjoys being a superhero? She's so lovely to her fans.
You're right — she loves anyone who is kind to her! Superstrength has its uses, but she'd happily give it all up for the right man.
Did you have a say in your costume at all?
It was a team effort. Drew, Ben, and I had ideas but Annie the costume designer was the talent that made it happen — it is not easy to find that array of tank tops in the shops on Oxford Street, but she managed it! We wanted Jenny to be a bit like Velma in Scooby Doo. Geeky like Clark Kent as Jenny, and a ginger plump version of Wonderwoman as She-Force. Thanks to Annie, and Lucy in makeup, we got just what we wanted.

OK, here's the predictable one — if you could have a power, what would it be?
I'd have the power to say the right thing at the right time.
Nice answer! If you could give anyone at all a superhero power, what would it be?
Oh... giving people powers, no — I'd get it wrong — they'd misuse it and it might lead to the end of the world or something awful and everyone would blame me!
In the series Electroclash and She-Force have a now-defunct band amusingly named Ladytrouble. Can we look forward to any more from Ladytrouble later in the series? Perhaps an Xmas single?!
Great idea — if you buy it — I'll record it. It's such a funny idea — who knows, if we do another series, I think we'd have to see a bit more Ladytrouble.
Did you have to do any special preparation for the role at all, like shadow a real life superhero?!
I couldn't find any unfortunately — so I just ate cake instead, to beef up. It was tough.
Timebomb's my favourite man of the gang – James Lance is so funny! Did you have to bite your tongue to stop from laughing at all on set?
Does somebody have a crush? Maybe... James is worthy of your adoration, he's very funny and charming; although that is actually his real accent. I got told off for laughing all the time — I think the others did it on purpose to get me into trouble.
What were your favourite moments on set?
I loved my scenes with Mark Heap and Adam Buxton. Both of them are heroes of mine. I also loved any time I used my superstrength — because in real life I'm quite weedy.
So what have you got coming up?
You can see me in the BBC's Tess Of The D'Urbervilles on Sundays — then Men Are Wonderful a film about Barbara Cartland on BBC4 in October. I'm also doing the voiceover on Don't Tell The Bride on BBC3 now! What a funny show that is — grooms making ALL the decisions for their Brides' big day - hilarious chaos!

Wow, it sounds it! You can catch the lovely Rebekah in No Heroics tonight at 10.30pm on ITV2.

Photos courtesy and copyright of ITV.