Exclusive Interview and New Photos with Drake Bell Before London Show At The Borderline January 2011
Drake Bell Talks Tattoos, British Influences and Future Plans
American musician and actor Drake Bell is visiting London for the first time to put on a show at The Borderline tonight, and I caught up with him to chat about his career, ambitions, and eyecatching tattoos. His first love is music, though he started acting at a young age and is still picking up international awards for his work on Drake & Josh, which ended production as a series back in 2007. Since then he's worked on movies and toured in the US and internationally — Drake's now gearing up for the release of his third album later this year. He also has even bigger plans for the future, which he filled me in on when we talked: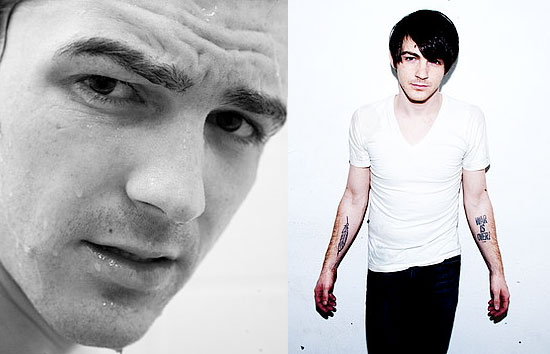 You're a huge fan of British music, aren't you?
Absolutely, I love The Beatles, Rolling Stones and British music has been a constant in my life ever since I started playing and listening to music. I have never been to London before and it's going to be a great time. It's something I've always wanted to do. In Europe, I've always wanted to visit the Eiffel Tower, Big Ben, and I'd love to see the Leaning Tower.
Who are your biggest musical influences and your favourite musicians to work with?
The Beatles are my biggest musical influences. Currently, I also like Midlake and Bruno Mars. I like working with multi-instrumentalists.
Tell me about your tattoos:
"War Is Over", it's from John Lennon, it spoke to me. I'm a huge fan of Lennon. The feather on my arm means a lot of things, depends on what the day is and which mood I'm in. I have Lennon's glasses on my back. They have a broken lens, which is something that spoke to me. Finally there's "Smile", which is the title of Brian Wilson from the Beach Boys' amazing opus. I don't know if I'll get more.
What dream projects would you love to work on in the future?
Working with Paul McCartney would be a dream come true. I would love to do one of the remakes of the Jerry Lewis films. There are a lot of dream projects.
To see photos of his tattoos, read what Drake had to say about his future ambitions, and find out what he's working on right now, just read more.
You have two different audiences that somewhat cross over - one from Drake & Josh, and one as a songwriter, musician and actor. When you write your music do you keep that in mind, or do you just write for yourself?
I have always written for myself, there's nothing I'd steer away from in my music to keep the appeal to younger fans - I'm the same person for each audience.
How did you start playing music?
I was always interested in playing music, I started with the drums. Eventually I wanted to lead a band, and I wasn't a great drummer. I had to learn how to play guitar for a movie role, fell in love with it, and started writing songs.
What's the biggest lesson you've learned between working on your first album and third?
I used to make records in a room with my best friend and now I make records all over the place in different situations with people I barely know. It's taken a lot of time and it's a different dynamic working with other professionals and producers.
You work in a lot of different fields already, but is there anything else you'd like to branch out into?
Fashion and becoming an author... I am working on things in both areas.
Are there any designers that you favour?
I love Prada, D&G, Gucci, Simon Spurr, Tom Ford, Conference Of Birds, English Laundry, and Opening Ceremony. I'm inspired by a modern twist on a classic style — well tailored suits with striped pants (trousers) and a flashy coat.
Finally, what does 2011 hold for you?
Great things. A lot of new projects. This year will be my first time doing many different things I have always wanted to do with my career.
Drake Bell is performing at The Borderline in London tonight — Monday Jan. 24.
UPDATE: Check out photos from the show here!
Photos: Tyler Shields and Cameron Hopkins