Exclusive Interviews With Louis Walsh, Simon Cowell, Holly Willoughby and Dannii Minogue on The X Factor
2008 NTAs: Simon Talks Strictly, Louis Stresses Sympathy Vote
The X Factor's presenters, judges and behind the scenes geniuses were all at the National Television Awards last night and I got the chance to speak to some of them! Following his Special Recognition award acceptance speech (and losing to Strictly Come Dancing in the Most Popular Talent Show category) a very amusing Simon came to the press room for a Q+A, and I also managed to speak to Louis Walsh, Dannii Minogue and Holly Willoughby on the red carpet. Here's what they had to say: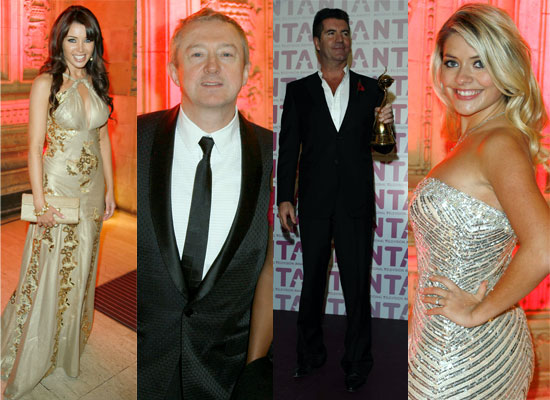 Simon on how upset he was that Strictly... won the live vote: "Oh out of ten, a million! I mean, the whole night's ruined! Yeah, seriously, I mean, I'm bad about losing but to that lot, it's a nightmare. I mean a serious nightmare."
Simon's message to the Strictly guys: "I'm really pissed off, how about that?"
Cheryl Cole said if she wins the series she'll kiss Dannii, would Simon kiss Louis if he won? [laughs] "Absolutely no chance. No, I'll kiss one of those two. I think I've got a good chance of winning. I'd kiss whichever comes first. It's not exactly a bad problem is it?"
Louis on crying on last week's show: "Why did I cry? Honestly, I didn't know [Daniel] was going to sing that song "To Where You Are" and I know the song really well because it's a Josh Groban song. I wanted Westlife to record it, it's a very sad song. So when he sang it, it totally got to me and I had to keep him. Otherwise, I was going to send him home. No, he cannot win, no. It was the sympathy vote, and it got to me and I'm guilty of it. Amy's the vocal coach, she'll tell you how good or bad he is! Vocal coach to the stars... and Daniel."
To read more from Louis, thoughts from Dannii on the "Heroes" single, and how Holly's spending her Xmas, just read more.
Dannii on The X Factor finalists' single: "It's phenomenal, I mean, the emotions that were in the studio last week with the performance captured everyones' hearts, and, it's just, that's what sells music."
If Louis could invite anyone for Christmas dinner, who would it be? "Bette Midler, she'd make me laugh."
Louis on his plans for Christmas: "I'll go to Ireland, then go to Miami on holiday!"
Holly on her plans for Christmas: "I'm going home! well I say I'm going home it's my very first Christmas ever at my new house, so I have everybody coming to me. It's my first Christmas lunch and I'm slightly terrified! I just want to have some time off, that's my Christmas wish!"
Stay tuned for more from the 2008 NTAs soon!