Exclusive Photos Of Skins Cast At T4 On The Beach Luke Pasqualino, Kaya Scodelario, Lily Loveless, Meg Prescott, Klariza Clayton
Skins Cast Talk About Series Four At T4 On The Beach!
The fourth season of Skins begins shooting this month, and almost the entire cast were down at the beach at Weston-Super-Mare on Sunday for T4's live event! I saw Luke Pasqualino, Kaya Scodelario, Kathryn and Megan Prescott, Lily Loveless, Lisa Backwell, Klariza Clayton and Ollie Barbieri backstage at the bash, laughing and chatting with each other. Since they started working on the new series a week ago, the girls told me they've seen four scripts so far, so they know half the series' storylines — apparently they're deeper and darker than season three's plotlines!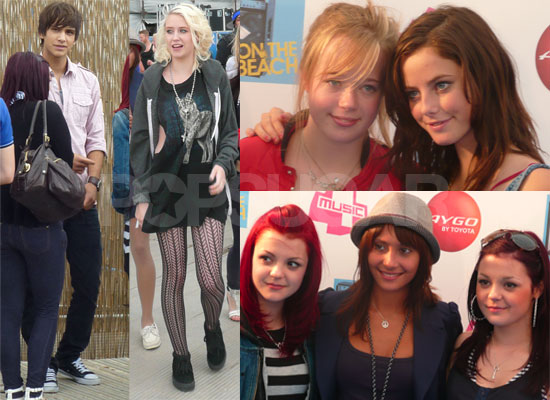 They cast also mentioned that they are working with a female director for the first time, and that they all know they'll be leaving at the end of this series when the gang all move on to Uni and/or real life. Lily skipped the cast photos in the press tent, but she was happy to take part in a game onstage vs Diversity, while Dizzee Rascal's performance coaxed Ollie out into the golden circle. I can't wait for the fourth series to begin airing, although it's likely it won't be until 2010 — are you looking forward to more Skins?
To see more photos of the lovely Skins cast at T4 On The Beach yesterday, just read more.
Photos copyright of PopSugar UK