Exclusive PopSugarUK Interview With Troels From Alphabeat
Exclusive: Alphabeat's Troels Talks Music and Touring
Alphabeat released their ridiculously catchy single "Boyfriend" yesterday, and I got the chance to talk to Troels Hansen from the band about all kinds of things – from touring, to influences, to smashed tambourines. Here's part one of my Q+A with him: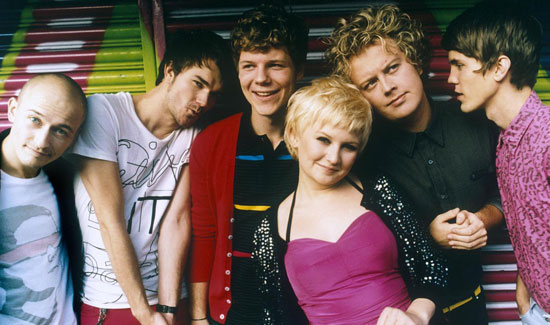 Hi Troels! I saw you guys at T4 On The Beach and you gave an awesome performance, did you enjoy that gig? Were you all covered in sand by the end of the day?!
T4 was great fun! We enjoyed it very much. As we're from Denmark we didn't really know anything about what it was and Stine thought it was like a small beach party for 500 people or something like that. But she was proved wrong! The line up was very impressive and the whole concept is quite amazing as well: Lots of pop stars sharing one stage, performing 2 or 3 songs in front of 30,000 kids! And yes … We found sand in our armpits up to 3 days later.
Who are your past and present day musical influences?
For this album, This is Alphabeat, we've been very influenced by late 70s, early 80s pop and disco music. Chic, B52s, David Bowie and stuff like that. When we wrote the songs for this album we lived in our hometown Silkeborg and spent all our pocket money on cheap vinyls in the local charity shops so that's kind of how that influence came along. We're actually a bunch of music lovers who listen to all sorts of different music. It's not that we only listen to pop music when we turn up the stereo. These days we're digging Hot Chip, Juvelen, Pandering & The Golddiggers, Sebastien Tellier and stuff like that.
For more entertaining answers from Troels about touring, his aspirations and more, just read more
Who would you love to tour with?
Well we're hopefully gonna be supported by Juvelen from Sweden when we go there on our European Tour in October. He is excellent. Sam Sparro would be cool as well … We've meet him a couple of times. Last time was at T4 on the Beach where he came over to give us some of his "Sam Sparro Glasses". He is super cool in person and is a superb live performer. We saw Robyn on V Festival. We had played just before her and therefore we went to see her right after and she was quite amazing! She has written some grrreat pop songs and she really knows how to deliver it all live. But she's going on tour with Madonna the next couple of weeks so she's probably too busy. Maybe we should just go on tour with Hot Chip then…
How are catchy songs like "Boyfriend" written? – I can't get it out of my head!
Lil Anders is our songwriter and he is just very good at writing songs I guess. He is extremely productive, always making new songs on his laptop and recording in his room when he is home. For This is Alphabeat he was very inspired by 70s and 80s pop and it's easy to find references in some of the songs. "Boyfriend" is probably our most poppy song on the album, very "fall to the floor" kick drum driven, "Go Go" is a 70s almost Chic sounding disco pop song with a lovely Nile Rodgers guitar sound and "Fascination" is a song with a beat inspired by David Bowie's "Modern Love" and Pointer Sister's "I'm So Excited". It's all about musical inspiration, stealing bits and pieces and then making it your own.
What song do you wish you'd written and why?
I've just got Cubase installed on my laptop so I've started to write my own stuff. I like to call my genre "Disney Justice" … I'm very influenced by a Swedish duo called The Tough Alliance. They have a very special sound with a mix of World Music, Swedish pop and a huge bunch of attitude. With my new project in the back of my mind I'd wish I had written their song "Something Special". Go check it out.
I will, thanks! What can your fans expect from your many upcoming live shows?
We're very productive these days as I mentioned earlier, and new songs are being written, so people in the UK can expect a couple of new songs maybe and a new cover song in the set. Lots of sweat, lots of dancing, lots of pop, lots of smashed tambourines, maybe some blood, maybe some tears. We never know how our gigs will develop during a set.
In an ideal world, where do you want to be in a year's time?
We would love to be in the studio finishing our second album. We're very productive these days writing new songs, demoing and stuff, in between touring and travelling. Anders SG, Stine and Lil Anders have set up a small home studio in their living room so they are working there whenever we're home. We would love to be in a studio doing new stuff around this time next year.
Stay tuned this week for part two of our fun interview with Troels from Alphabeat!