Extensive Gallery of Photos of Men from the 2010 Oscars Red Carpet inlcuding Taylor Lautner, George Clooney, Matt Damon
Check Out All the Guys in Their Bow Ties at the Oscars!
The hunks were out in force at the Oscars last night, with gorgeous guys Gerard Butler, Colin Firth, Taylor Lautner, Tom Ford and Jake Gyllenhaal among those walking the red carpet in their red ties. George Clooney took girlfriend Elisabetta Canalis and showed off a new longer hairstyle, Antonio Banderas showed up with a bushy beard, while Matt Damon looked gorgeous as always! Zac Efron presented an award last night and walked the red carpet solo, Colin wore a suit by his director Tom Ford, while Woody Harrelson's was made of hemp! Robert Downey Jr and Nick Park brought a little colour to the parade of suits, and Samuel L Jackson stayed true to his own style in his signature hat. Tell me who you think looked best!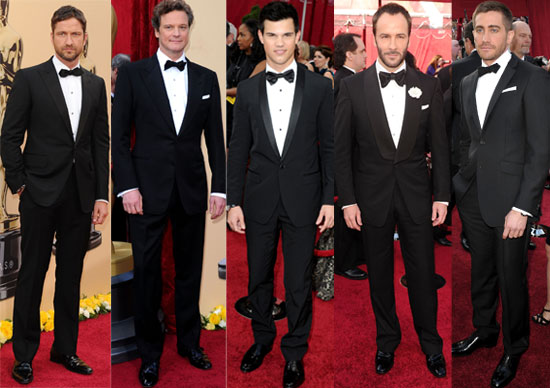 To see many more photos of all the men on the red carpet, including George Clooney, Matt Damon, Ryan Reynolds and many more, just read more.
Images include: Ryan Seacrest, Zac Efron, Sam Worthington, Joel Madden, Ryan Reynolds, Jason Reitman, James Cameron, Jeremy Renner, Tom Ford, Lenny Kravitz, Quentin Tarantino, Steve Carell, Matthew Broderick, Jake Gyllenhaal, Morgan Freeman, George Clooney, Nick Cannon, Christoph Waltz, Keanu Reeves, Jeff Bridges, Taylor Lautner, Robert Downey Jr, Matt Damon, Antonio Banderas, Justin Bateman, Chris Pine, Eli Roth, Colin Firth, Stanley Tucci, George Takei, Nick Park, Guy Pearce, Samuel L Jackson, Woody Harrelson, Tyler Perry, Nigel Lythgoe, Christopher Plummer.