Extracts of Cheryl Cole Interview From The Sunday Times, Cheryl Cole Speaks On Not Trusting Ashley, Cheryl Cole Talks X Factor
Cheryl Spills About Ashley, X Factor, Exes & Elocution Lessons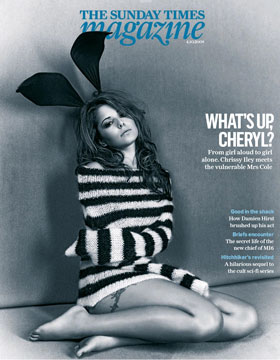 Cheryl Cole spoke to The Sunday Times about the bad and good press she's had and the stories behind the headlines, including Ashley's kiss and tell, elocution lessons, her addict ex, trust and her new solo music. If you missed reading it in print, it's all up to read online, but here are some extracts from the fascinating story:


On newspaper rumours of elocution lessons: "Can you imagine Newcastle if I started coming out talking like the Queen? I couldn't think of anything worse. It would be enough to drive you insane because it's not always nice, is it? Stuff is just made up. It's not nice to be criticised by another human being, it's not nice to read it... so I just stopped."
On whether she fully trusts Ashley: "I've come to the conclusion that I don't trust anybody in life except my mother and my dogs. I'm scared to let people know how much they mean to me, and it's scary that you can love a small hairy thing so much."
On their happiness: "Yeah. We're happy. You have to go through life. You have to have that learning curve. That pleasure versus pain. In general my life goes shit shit shit, amazing amazing amazing. I'm on the biggest roller coaster ever. I feel like for the past six months I'm starting to level out. I'm sure at some point the nemesis will come back, but I feel like when the bad things happen there'll always be something good coming."
To read what Cheryl has to say about difficulties of joining The X Factor, her drug addicted ex, her brother, and the future, just read more.


On joining The X Factor: "Sharon's shadow was really hard to fill, and at the time my only impression of judging was of being judged, so being given that name was scary. I felt uncomfortable. Then I started to realise that I could actually benefit these people because I know how they feel. I can help them... This year I think I'll be less [emotionally] involved. This year I've got the boys and there was something about them being girls, young girls — I felt responsibility for them."
On her brother: "I haven't actually spoken to him for a while, but he's got a baby and I'm hoping that will be his turning point. But he has been [an addict] my whole life. Yes, from when I was seven or eight. He is only three years older but he looks much older. It's all the abuse he's done to himself over the years... I am not a big drinker. I am starting to learn a lot about myself. Drinking is scary to me now. I'm scared of losing control of how I feel or what I'm thinking. I'll have the odd glass of wine to relax, but I'm not a mad-night-out person. I don't like it. My granddad was an alcoholic as well. I would always see him staggering home from the pub, absolutely pissed on Strongbow. It affected his kidneys and his mind. He was losing his mind towards the end, all through alcohol. It's so easy for a lot of people to knock the drink back but I am determined not to let myself go down that road."
On her ex:"A few weeks ago there was a story in the News of the World, and this person [Mack] said how I saved him from drugs. At the time he was constantly denying to me that he was using, even though I could see all the symptoms. He would be cold turkey in the bed next to me, covered in goose bumps, head to toe. ... I knew he was on it, but I didn't want to believe it, and I wanted to be the one who got him off it. He denied it and denied it. That's what drove me crazy. So when I saw that in the paper — 'I made her life hell. I was using heroin' — that was the first time in all these years that he admitted it and I felt the weight lifted off my shoulders. Even though my life has moved on and I'm in a better place, it was a relief."
On her new solo music: "I have reached a point where I feel content. All the negativity has gone. The first single is called Fight for This Love. It says… 'We've got to fight, fight, fight for this love. If it's worth having, it's worth fighting for.' ... [It's] to everyone that I've seen in a tough situation. I think anyone can identify with it. I hope it makes people feel able to fight harder and not give up hope."
You can read the rest of Cheryl's in depth interview from The Sunday Times here.