Extracts From Kylie Minogue's Interview With Elle Magazine
Kylie Talks About Changes And New Man Andrés In Elle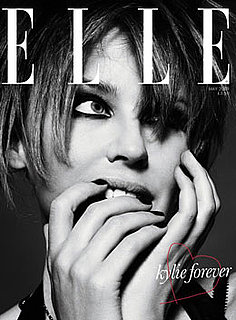 Kylie Minogue is looking absolutely beautiful on the cover of Elle magazine this month, and she's opened up about her recovery from cancer, her new man, and the tough time her sister Dannii had on The X Factor. Here's some extracts from her interview:
On her comeback after her illness: "In the past few years I got more and more and more closed. It was protection mode. Even before I was ill, I remember being at a shoot and I had a meltdown in the dressing room – a panic attack. It's hard to explain, but when you're the focus of attention, and everything's coming at you… Being in a not-100-per-cent state, it was too overwhelming. So, yeah, my comeback was very gentle and very closed, with the people that I know and that I know I can trust."
On how her body's changed since fighting cancer: "Yeah, it's different now. I actually said on the day of the ELLE shoot, 'Oh God, I can't believe that once again I'm in something that resembles a swimsuit!' Albeit with many thanks to the opaque tights. I still deal with it. I've got fat ankles hidden under these boots. But I think my body in many ways is better now for having weight on it. When I look back at some pictures, especially from before I was diagnosed, I just think, 'That's too thin, that doesn't look good. That doesn't look right.' My face has changed. Everything's changed. It's coming back to normal more and more… Whatever normal is. New normal."
To read what she has to say about the drama of The X Factor and Dannii, as well as what she'll say about her new love, just read more.
On the tabloid drama of The X Factor: "I mean, we all know there were issues between Sharon and my sister. But I don't think there were any between her and Cheryl. I'm just so proud of my sister and it annoys the hell out of me when comparisons between us are made in an unfavourable way to her. In England, you lot don't know where she came from. She was on TV every week from seven years old. I think that makes it harder for her when she gets Louis Walsh's rather pathetic jibes – one of which is she hasn't had a hit record. That's not true. He has no idea where she's come from. No idea. And neither does England. And that's quite hard."
On what's so great about her new man Andrés Velencoso: "What isn't? That's my answer. All I'll say is that my year has started off wonderfully."
To read the full interview and see more of Kylie's exclusive photoshoot, check out Elle's May issue — out now!