Extracts From Rainn Wilson's Interview With Paste Magazine
Rocker Rainn Reminisces About Records and Recognition
Rainn Wilson is featured in the September issue of Paste magazine, talking about a whole load of his "firsts" in his own amusing style. I met up with him a little while ago, before the release date for his upcoming movie The Rocker was pushed back to October, so you'll be able to read my interview with the lovely, funny actor in a few weeks. But for now, here's some excerpts from his magazine interview: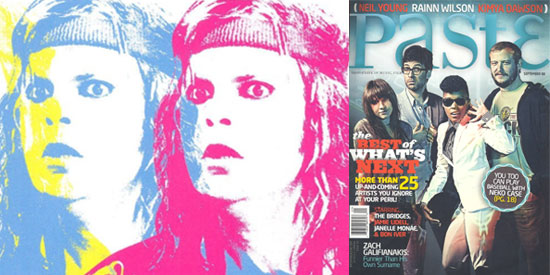 On the first band he really loved:
"I think I was about 14 or 15 when "Another One Bites the Dust" came out. And I got all the Queen albums and I just loved Queen, and I still love Queen. I play Queen for my son – he's three-and-a-half – and he just goes crazy and we dance around. I mean they were visionaries. And their stuff will always be classic."
On his first concert:
"It was early high school and I was terrified 'cause there were a lot of tattooed, weird older dudes. And then the concert started and the pot pipes came out. And it was just a fog of pot smoke. It was like a big, green fog had descended on the stadium. People were offering us joints and I was just terrified – terrified – at joints being offered to me."
On his first acting experience (in a school cafeteria production):
"I had to beat the talent scouts away with a stick. It was kind of crazy. It was a feeding frenzy."
For more from Rainn on The Office: An American Workplace, and the weirdness of getting things for free just for being himself, just read more
On the first thing people mentioned when commenting on The Office during season one:
"Literally every third person was like, 'I have to tell you, I was the hugest fan of the English show, and I never thought you guys would be able to do it, but you did it.' And it's like, people don't see what a clichéd opinion that is. It's such a tired opinion about anything. Like, 'I was a big fan of the book version of blah blah blah, and I didn't think the movie could work, but I really liked the movie.' It's so easy to be on the too-cool-for-school pedestal."
On the first time he got something free for being "Rainn Wilson":
"I'd been acting for 13 or 14 years at that point and never been to an awards show before. And we won, and they were like, 'Oh, would you like to go to the gift suite?' And we were like 'What?!' I'd never even heard of this before. But, yeah, they usher you into this little room where people give you stuff. And it was amazing to see these multimillionaire actors elbowing each other to try and get free stuff – like Marcia Gay Harden and Andie MacDowell kind of like pawing their way to get free shoes and a Weber grill and aviator glasses."
Look out for my exclusive interview with the lovely Rainn coming up soon, but for now you can read the rest of this interview in the September issue of Paste magazine!