FKA Twigs in Paper Magazine October 2015
FKA Twigs Shows Off Her Insane Figure on the Cover of Paper Magazine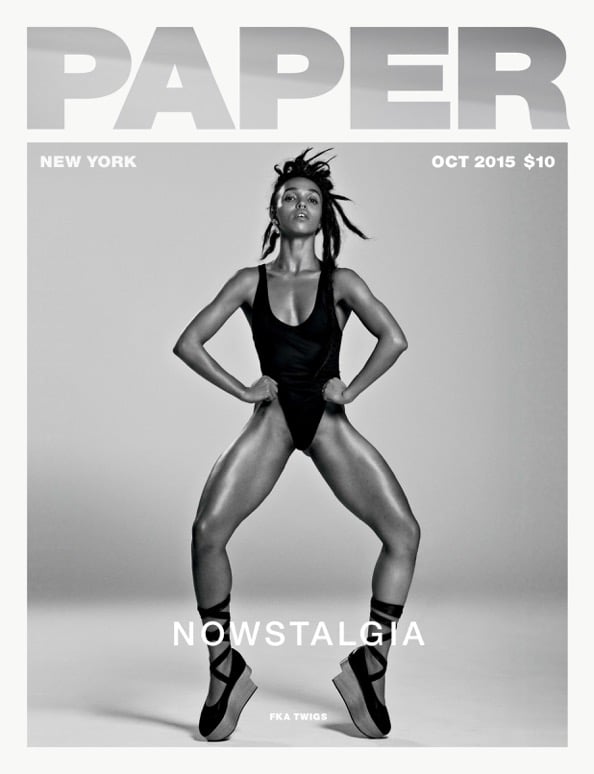 FKA Twigs looks superhot on the October cover of Paper in a black, high-cut one-piece that shows off her toned arms and thighs. The British singer, who is engaged to Robert Pattinson, didn't open up much about their relationship, but did call herself "quite traditional" and alluded to being excited for marriage and children. She echoed the same sentiment while talking to The Sunday Times in August.
When it comes to her career, Twigs touched on her "throbbing energy" and how stressful it is to be an artist. "To write things that are like, 'F*ck, that was made, now it's out,' you have to be so brave," she said, adding, "because ultimately you're going to get people throwing rocks at your babies — throwing rocks at your songs, your feelings."
She also talked about her image and how different it is from most other singers in the game, namely Taylor Swift. When asked how her public perception differs from "the Taylor Swift model, where the hook is how much you want to be her friend," Twigs replied, "I think Taylor Swift is great, but I wouldn't necessarily think, 'Oh my god, I have to be friends with her.' When I meet fans, they're quite creative and intelligent, kind, sensitive. Some are old ladies, witch doctors from Louisiana, kids that have just left art school. Gay or lesbian couples, straight middle-aged couples." Read the full interview here, then check out more facts about the singer.