Film Review Of Brideshead Revisited
Pop Preview: Brideshead Revisited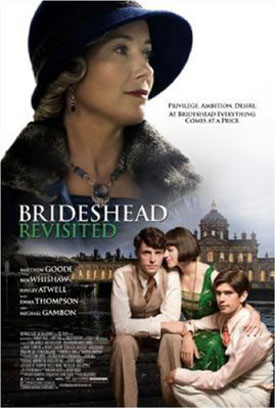 Miramax has made the brave decision of releasing a film version of Brideshead Revisited which takes a fair few liberties with Evelyn Waugh's novel. If you've read it (which I did for September's PopUK Book Club) you may find the alterations distracting, but view the film as a separate entity and you can marvel at the acting and cinematography.
It tells the story of Charles Ryder (Matthew Goode) and his involvement with the aristocratic Flytes, from his Oxford days with Sebastian (Ben Whishaw) to his relationship with Julia (Hayley Atwell). The family are controlled by Lady Marchmain (Emma Thompson) and her strict Catholic views, while Lord Marchmain (Michael Gambon) lives with his mistress in Venice.
The most outstanding aspect of the film for me was the cinematography. The action moves between the glowing buildings of Oxford University, the dark corners of a London house, the stately grounds of Brideshead, the luxury of a cruise ship, the waterways of Venice and the hot streets of Morocco. The different qualities of light, as well as the beautiful locations, are truly breathtaking. This is a feast for the eyes, and a sumptuous celebration of the visual.
To find out what else I thought of this adaptation just read more.
I was also impressed by the acting, in particular Ben Whishaw. He brings out Sebastian's vulnerability beautifully, and inhabits the role with his entire body. Emma Thompson also does an excellent job at portraying the sinister power of Lady Marchmain, and yet manages to bring a more human aspect to the role. As the plots jumps around in time, the characters have to age by 10 years, and this was most convincing in Michael Gambon and Hayley Atwell's performances. Hayley was excellent in The Duchess, and also gave a solid performance in this film, but I was left feeling quite cold towards most of the characters save Sebastian.
The film faltered for me on this point. I don't want to like every character, but I ended up caring little, and at more than two hours long it did drag in places. The other aspect where it disappointed was the liberties it took with the original novel. It is unsurprising that the film misses out a lot of the action — after all, it doesn't have the luxury of time in contrast to the ITV adaptation — and I was fully expecting an abridged version. However, there are significantly altered aspects which change motivations and consequences, and some of the complexity is lost in these changes.
To get a feel for the film check out the trailer. It is beautifully shot and well acted, but the alterations from the novel proved too distracting for me to give it a higher rating.