Film Review of Easy Virtue
Pop Preview: Easy Virtue
Jessica Biel steals the show as glamourous and intelligent Larita in Easy Virtue, a 1920s romantic comedy based on Noel Coward's play. After a whirlwind romance in America, Larita has married young earnest John (Ben Barnes), and when the couple arrive at the Whittakers' stately country house it's time for Larita to face her in-laws. Mrs Whittaker (Kristin Scott Thomas) is certainly not impressed to have an American for a daughter-in-law, while a withdrawn Mr Whittaker (Colin Firth) does his best to keep out of the way. We watch as Larita goes from trying to fit in to trying to wrest control of the situation, and her marriage, from her overbearing mother-in-law.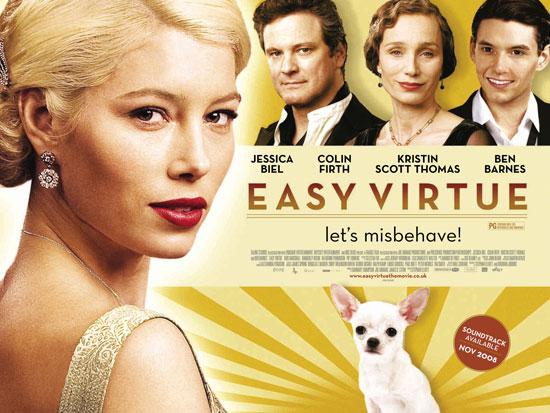 The tension between Larita and Mrs Whittaker creates a lot of the laughs in the film, as each tries to outdo the other through a series of verbal bouts and one-up-manship. There is also a more serious side to the film, especially evident in the figure of Mr Whittaker, a man who has withdrawn from life after the Great War. As the film develops we learn more about not only his past, but also Larita's previous controversial life. The battle between the two main female characters to win John also takes a more dramatic turn when the Whittakers' true situation is revealed.
To see what else I thought, plus more images from the film and the trailer, read more.
Easy Virtue really evokes the 1920s, from the fashion to the attitudes to the music. First off, the costumes are gorgeous, particularly Jessica's array of shimmering dresses and smart shirts, and boy does she have the figure to pull off those outfits. Music wise, the wonderful composer Marius de Vries cheekily mixes authentic songs from the period with contemporary tunes given a Cole Porter-esque arrangement (this version of "Sex Bomb" has to be heard to be believed!). It's an interesting device, as is the use of the cast's own singing voices (Jessica is surprisingly good), but it doesn't really live up to de Vries' fantastic work on Moulin Rouge and Romeo + Juliet.
Although Jessica dominates as admirable Larita, Kristin Scott Thomas is fantastic as the disapproving in-law. Colin Firth gives an understated yet powerful performance as the emotionally scarred veteran, but is a bit too youthful and modern to be entirely believable as John's dad and Mrs Whittaker's husband. His tango with Larita is the scene of the film for me. Ben Barnes is perfect as out-of-his-depth John, all youthful exuberance and naivety, while John's sisters (Kimberley Nixon and Katherine Parkinson) are suitably annoying characters: perhaps a bit too annoying in parts!
For all the tiny niggles I have about the film, overall it is a hugely enjoyable way to spend an hour and a half. I was expecting an entirely light-hearted movie full of witty repartee and silliness, but I was even more pleased that this fun was countered by more serious undertones and more complex characters and relationships than the trailer perhaps suggests. Kris Marshall deserves a mention for his brilliant turn as the butler and Charlotte Riley (who plays John's childhood companion) is one to watch for the future. Check out the trailer below and let me know if you plan to watch the film, which is released in UK cinemas today. I'd certainly recommend it!