Film Review of The Secret Life of Bees Plus Trailer
Celebrate Female Solidarity With The Secret Life of Bees
Set in South Caroline in 1964, The Secret Life of Bees is a moving tale about female solidarity in the face of discrimination, based on Sue Monk Kidd's novel. 14-year-old Lily (Dakota Fanning) is trying to deal with her guilt over her role in her mother's death. When Rosaleen (Jennifer Hudson), Lily's housekeeper, is physically beaten when she tries to vote, the pair run away from Lily's abusive father (Paul Bettany) in search of a safe haven and answers to Lily's questions about her mother.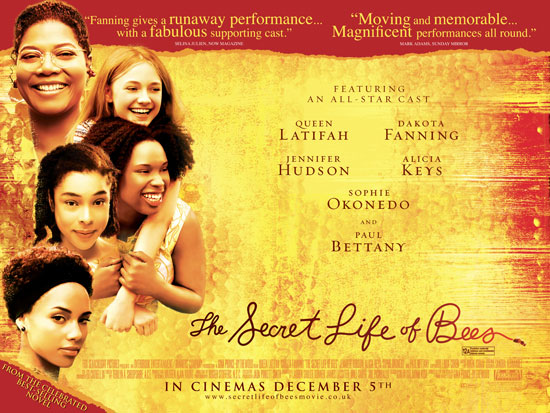 They follow their only clue, a piece of wood with an image of a black Mary and the name of a town, and find themselves at the pink house of the Boatwright bee-keeping sisters: May (Sophie Okonedo), June (Alicia Keys) and August (Queen Latifah).
To find out more, watch the trailer and see stills from the film, just read more.
Lily starts to learn the secrets of bees, as well as the secrets from her own past, during her time with the Boatwright sisters. Like my girl Buzz, I was concerned that the scenes where the women worship Mary could have come across as too bizarre and silly, but Gina Prince-Bythewood directs the entire film with such a gentle touch to bring across the power and beauty. The film also portrays the practicalities of living in the Civil Rights era, with more drama resulting from Lily's burgeoning relationship with August's godson, Zachary (Tristan Wilds). It is slow in places, and feels longer than its already considerable 110 minutes running time, but on the whole I remained interested, and I cared what happened to the characters.
The most outstanding aspect of the film is that every actor gives an amazing performance. Alicia Keys has quite a tough role to pull off, as an independent music teacher who isn't as welcoming as her sisters, but she gives a rounded performance and provides some awesome cello playing. Queen Latifah is the beating heart of the house and the film, as the motherly and kindly August, while Sophie Okonedo steals the movie for me as the deeply moving childlike May. Paul Bettany brings tension into every scene, and his accent is surprisingly convincing, while Dakota Fanning convinces as a girl on the cusp of adolescence looking for answers about everything. Paul Bettany and Sophie Okonedo attended the UK premiere at the London Film Festival in October, and I found their performances the most affecting of all.
The Secret Life of Bees is released today, and is one of several big films to hit our screens this month. Take my slideshow poll and tell me which you plan to see.