First Glance: First Photo Of New Doctor Who Matt Smith And His Assistant Amy Pond, Played By Karen Gillan On Set In Cardiff!
First Glance: New Doctor Who Matt Smith And His Assistant!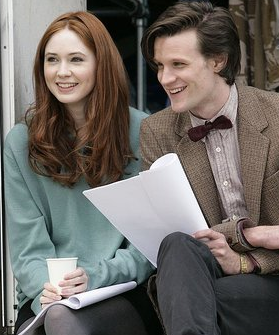 The new series of Doctor Who has started filming in Cardiff, with Matt Smith taking over from David Tennant as the new Doctor. The episodes that he's shooting at the moment will appear on our screens in Spring 2010.
There's also a brand new assistant joining the cast along with Matt — Karen Gillan plays Amy Pond who joins him in the first episode of the new series.
On set, Matt said:
"I feel very privileged and proud to be part of this iconic show. The scripts are brilliant and working alongside Karen, Steven and the rest of the crew is an inspiration because their work ethic and passion for the show is so admirable. I'm excited about the future and all the brilliant adventures I get to go on as the Doctor."
So, are you looking forward to seeing how Matt settles in as the new Doctor, or are you going to miss David Tennant? Let me know!
Photos courtesy and copyright of BBC Pictures.