First Glance: Linha De Passe – See It or Skip It?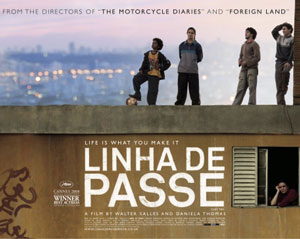 Linha De Passe premiered at Cannes this year and actress Sandra Corveloni won Best Actress for her performance in the movie. The film is set against the backdrop of Brazil in a state of crisis, and focuses on a family where four fatherless brothers try to find a way out of the city. Apart from the acting, the trailer really struck me for its cinematography and I can't wait to see more of it.
The drama is released in the UK on September 19 and is the fourth collaboration from co-directors Walter Salles (The Motorcycle Diaries) and Daniela Thomas (Paris, Je T'aime). What do you think though – will you go and see the film? Or will you skip it?