First Pictures of Kai Wayne Rooney, Photos of Coleen and Wayne Rooney Leaving Hospital With Baby Kai
Coleen and Wayne Rooney Leave Hospital With Baby Kai!
Having given birth to Kai yesterday afternoon, Coleen Rooney looked radiant as she left Liverpool Women's Hospital today with hubby Wayne and their families. Wayne carried their baby son in a black car seat from the hospital door to a silver people carrier, driven by his father, while Coleen's mum Colette was full of smiles as the group made their way home. More details about the birth have emerged today, with a source saying Wayne cried with joy as he was handed their newborn son, who weighed 8lb 2oz. It is believed Coleen checked in on Sunday evening, and doctors decided to induce the baby as he had been due on 24 October. Bookies are already taking bets on which football team Kai will play for, and Alex Ferguson has reportedly given Wayne time off from Manchester United's match tonight.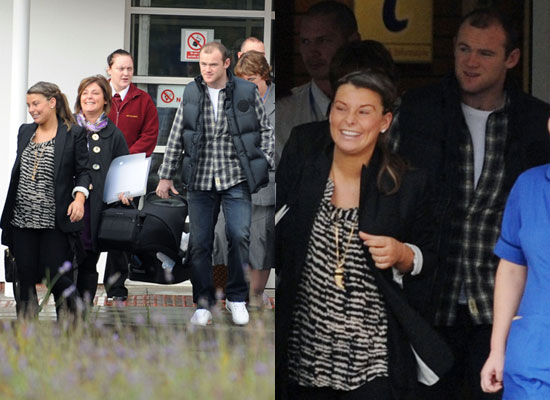 To see more pictures of the new family, just read more.