Flaming Lips Star Wayne Coyne Talks To Paste Magazine About Fake Blood And Touring
Finding Fake Blood For The Flaming Lips
Wayne Coyne got covered in fake blood for a Paste magazine's violence issue and an interview where he discusses the stuff — perfect for an October / Halloween issue, right? When touring the album The Soft Bulletin, particularly the song "The Spark that Bled" the band began a now-famous trippy stage ritual in which Wayne appears to bleed from the forehead. Here's some excerpts from his Paste interview: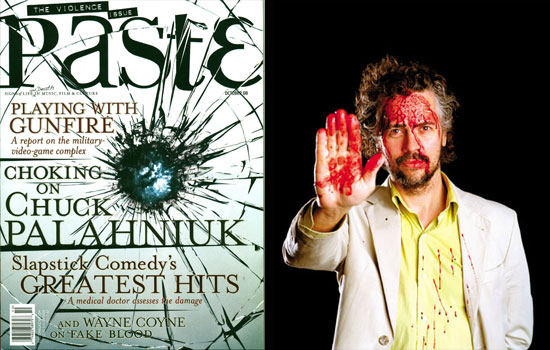 On the beginnings of the stage moment: "At one point all of us had fake blood, and we poured it all over our heads – more like Carrie, I guess, than The Exorcist. Before long the blood congealed under the hot lights. So I knew when I went to do it again, you can't just grab this shit and get it all over the place because musicians are trying to play some intricate little things, and stickiness is the enemy of all that."
On the intricacies of fake blood: "There's a guy who does clown makeup on the other side of town who has several tiers of fake blood. Some of the fake blood will stain clothes, some you can't get in your eye, some is like candy."
On fake blood and dry cleaning: "So this fake blood is kind of like candy, having candy poured in your eye – if you can handle that. It gets on my clothes, and I've washed the clothes that it gets on. And it has to come out. I don't want to ruin every suit that I have just to do this gag."
You can read more of Wayne's amusing interview in the violence issue of Paste magazine, out now.