Full List of 2011 Brit Awards Winners Including Rihanna, Justin Bieber, Cee Lo Green, Tinie Tempah, Take That, and More
Announcing the 2011 Brit Awards Winners!
There were lots of happy music acts at tonight's Brit Awards. Tinie Tempah won two out of the four for which he was nominated, and Arcade Fire also picked up two awards. The other international awards went to Justin Bieber, Cee Lo Green, who sang with Paloma Faith, and Rihanna, who performed in two outfits. Cheryl Cole presented Rihanna with her award and revealed she has a girl crush on her! Winners in the British categories include Take That, Laura Marling, Plan B, and Mumford and Sons, and Jessie J got emotional when she picked up her critics' choice award. Check out all the women, men, and couples on the red carpet, and vote on FabUK and BellaUK's polls. See the full list of winners and more pictures after the jump.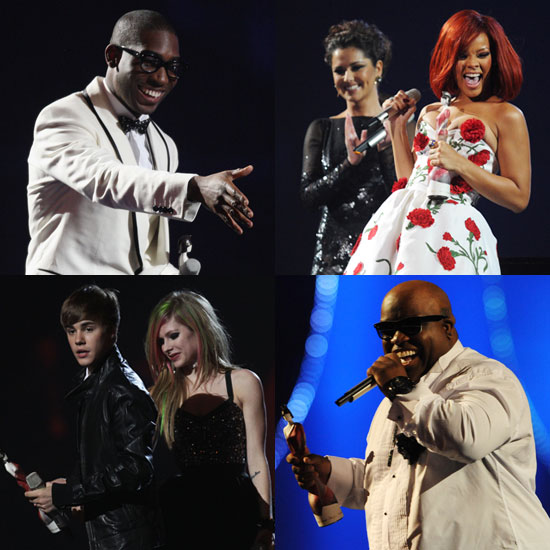 To see the full list of winners and more pictures, just read more.
British Breakthrough Act:
Tinie Tempah
British Male Solo Artist:
Plan B
British Female Solo Artist:
Laura Marling
British Group:
Take That
Critics' Choice:
Jessie J
British Single:
Tinie Tempah — "Pass Out"
British Album:
Mumford & Sons — Sigh No More
International Group:
Arcade Fire
International Breakthrough Act:
Justin Bieber
International Male Solo Artist:
Cee Lo Green
International Female Solo Artist:
Rihanna
International Album:
Arcade Fire — The Suburbs