Full List Of Nominations for 2009 Bafta Awards. Slumdog Millionaire Gets 11 nominations, Kate Winslet has 2 Best Actress nods!
2009 Bafta Awards — The Nominations
Jonathan Ross will host the Bafta Awards this year, he announced via his Twitter yesterday, and all of the nominations for this year's ceremony have now been released. The ceremony will take place at the Royal Opera House in London on February 8, and Kate Winslet continues her awesome awards season with two nominations in the best actress category, and Slumdog Millionaire has an enormous 11 nominations including Best Actor for lovely Dev Patel! There's a full list of nominations after the jump, so check them out and see if your favourites made it.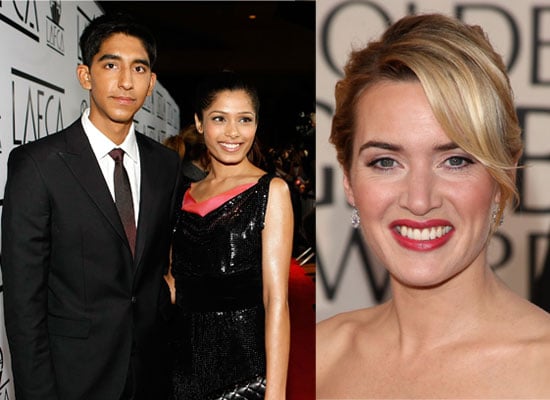 BEST FILM
* THE CURIOUS CASE OF BENJAMIN BUTTON – Kathleen Kennedy, Frank Marshall, Ceán Chaffin
* FROST/NIXON – Tim Bevan, Eric Fellner, Brian Grazer, Ron Howard
* MILK – Dan Jinks, Bruce Cohen
* THE READER – Anthony Minghella, Sydney Pollack, Donna Gigliotti, Redmond Morris
* SLUMDOG MILLIONAIRE – Christian Colson
OUTSTANDING BRITISH FILM
* HUNGER – Laura Hastings-Smith, Robin Gutch, Steve McQueen, Enda Walsh
* IN BRUGES – Graham Broadbent, Pete Czernin, Martin McDonagh
* MAMMA MIA! – Judy Craymer, Gary Goetzman, Phyllida Lloyd, Catherine Johnson
* MAN ON WIRE – Simon Chinn, James Marsh
* SLUMDOG MILLIONAIRE – Christian Colson, Danny Boyle, Simon Beaufoy
To see the rest of the nominations, just read more
THE CARL FOREMAN AWARD
for Special Achievement by a British Director, Writer or Producer for their First Feature Film
* SIMON CHINN (Producer) – Man On Wire
* JUDY CRAYMER (Producer) – Mamma Mia!
* GARTH JENNINGS (Writer) – Son of Rambow
* STEVE McQUEEN (Director/Writer) – Hunger
* SOLON PAPADOPOULOS, ROY BOULTER (Producers) – Of Time And The City
DIRECTOR
* CHANGELING – Clint Eastwood
* THE CURIOUS CASE OF BENJAMIN BUTTON – David Fincher
* FROST/NIXON – Ron Howard
* THE READER – Stephen Daldry
* SLUMDOG MILLIONAIRE – Danny Boyle
ORIGINAL SCREENPLAY
* BURN AFTER READING – Joel Coen, Ethan Coen
* CHANGELING – J. Michael Straczynski
* I'VE LOVED YOU SO LONG – Philippe Claudel
* IN BRUGES – Martin McDonagh
* MILK – Dustin Lance Black
ADAPTED SCREENPLAY
* THE CURIOUS CASE OF BENJAMIN BUTTON – Eric Roth
* FROST/NIXON – Peter Morgan
* THE READER – David Hare
* REVOLUTIONARY ROAD – Justin Haythe
* SLUMDOG MILLIONAIRE – Simon Beaufoy
FILM NOT IN THE ENGLISH LANGUAGE
* THE BAADER MEINHOF COMPLEX – Bernard Eichinger, Uli Edel
* GOMORRAH – Domenico Procacci, Matteo Garrone
* I'VE LOVED YOU SO LONG – Yves Marmion, Philippe Claudel
* PERSEPOLIS – Marc-Antoine Robert, Xavier Rigault, Marjane Satrapi, Vincent Parannaud
* WALTZ WITH BASHIR – Serge Lalou, Gerhard Meixner, Yael Nahl Ieli, Ari Folman
ANIMATED FILM
* PERSEPOLIS – Marjane Satrapi, Vincent Parannaud
* WALL•E – Andrew Stanton
* WALTZ WITH BASHIR – Ari Folman
LEADING ACTOR
* FRANK LANGELLA – Frost/Nixon
* DEV PATEL – Slumdog Millionaire
* SEAN PENN – Milk
* BRAD PITT – The Curious Case of Benjamin Button
* MICKEY ROURKE – The Wrestler
LEADING ACTRESS
* ANGELINA JOLIE – Changeling
* KRISTIN SCOTT THOMAS – I've Loved You So Long
* MERYL STREEP – Doubt
* KATE WINSLET – The Reader
* KATE WINSLET – Revolutionary Road
SUPPORTING ACTOR
* ROBERT DOWNEY JR. – Tropic Thunder
* BRENDAN GLEESON – In Bruges
* PHILIP SEYMOUR HOFFMAN – Doubt
* HEATH LEDGER – The Dark Knight
* BRAD PITT – Burn After Reading
SUPPORTING ACTRESS
* AMY ADAMS – Doubt
* PENÉLOPE CRUZ – Vicky Cristina Barcelona
* FREIDA PINTO – Slumdog Millionaire
* TILDA SWINTON – Burn After Reading
* MARISA TOMEI – The Wrestler
MUSIC
* THE CURIOUS CASE OF BENJAMIN BUTTON – Alexandre Desplat
* THE DARK KNIGHT – Hans Zimmer, James Newton Howard
* MAMMA MIA! – Benny Andersson, Björn Ulvaeus
* SLUMDOG MILLIONAIRE – A. R. Rahman
* WALL•E – Thomas Newman
CINEMATOGRAPHY
* CHANGELING – Tom Stern
* THE CURIOUS CASE OF BENJAMIN BUTTON – Claudio Miranda
* THE DARK KNIGHT – Wally Pfister
* THE READER – Chris Menges, Roger Deakins
* SLUMDOG MILLIONAIRE – Anthony Dod Mantle
EDITING **
* CHANGELING – Joel Cox, Gary D. Roach
* THE CURIOUS CASE OF BENJAMIN BUTTON – Kirk Baxter, Angus Wall
* THE DARK KNIGHT – Lee Smith
* FROST/NIXON – Mike Hill, Dan Hanley
* IN BRUGES – Jon Gregory
* SLUMDOG MILLIONAIRE – Chris Dickens
**As there was a tie in this category there are six nominations
PRODUCTION DESIGN
* CHANGELING – James J. Murakami, Gary Fettis
* THE CURIOUS CASE OF BENJAMIN BUTTON – Donald Graham Burt, Victor J. Zolfo
* THE DARK KNIGHT – Nathan Crowley, Peter Lando
* REVOLUTIONARY ROAD – Kristi Zea, Debra Schutt
* SLUMDOG MILLIONAIRE – Mark Digby, Michelle Day
COSTUME DESIGN
* CHANGELING – Deborah Hopper
* THE CURIOUS CASE OF BENJAMIN BUTTON – Jacqueline West
* THE DARK KNIGHT – Lindy Hemming
* THE DUCHESS – Michael O'Connor
* REVOLUTIONARY ROAD – Albert Wolsky
SOUND
* CHANGELING – Walt Martin, Alan Robert Murray, John Reitz, Gregg Rudloff
* THE DARK KNIGHT – Lora Hirschberg, Richard King, Ed Novick, Gary Rizzo
* QUANTUM OF SOLACE – Eddy Joseph, Chris Munro, Mike Prestwood Smith, Mark Taylor
* SLUMDOG MILLIONARE – Glenn Freemantle, Resul Pookutty, Richard Pryke, Tom Sayers, Ian Tapp
* WALL•E – Ben Burtt, Tom Myers, Michael Semanick, Matthew Wood
SPECIAL VISUAL EFFECTS
* THE CURIOUS CASE OF BENJAMIN BUTTON – Eric Barba, Craig Barron, – Nathan McGuinness, Edson Williams
* THE DARK KNIGHT – Chris Corbould, Nick Davis, Paul Franklin, Tim Webber
* INDIANA JONES AND THE KINGDOM OF THE CRYSTAL SKULL – Pablo Helman
* IRON MAN – Shane Patrick Mahan, John Nelson, Ben Snow
* QUANTUM OF SOLACE – Chris Corbould, Kevin Tod Haug
MAKE UP & HAIR
* THE CURIOUS CASE OF BENJAMIN BUTTON – Jean Black, Colleen Callaghan
* THE DARK KNIGHT – Peter Robb-King
* THE DUCHESS – Daniel Phillips, Jan Archibald
* FROST/NIXON – Edouard Henriques, Kim Santantonio
* MILK – Steven E. Anderson, Michael White
SHORT ANIMATION
* CODSWALLOP – Greg McLeod, Myles McLeod
* VARMINTS – Sue Goffe, Marc Craste
* WALLACE AND GROMIT: A MATTER OF LOAF AND DEATH – Steve Pegram, Nick Park, Bob Baker
SHORT FILM
* KINGSLAND #1 THE DREAMER – Kate Ogborn, Tony Grisoni
* LOVE YOU MORE – Adrian Sturges, Sam Taylor-Wood, Patrick Marber
* RALPH – Olivier Kaempfer, Alex Winckler
* SEPTEMBER – Stewart le Maréchal, Esther May Campbell
* VOYAGES D'AFFAIRES (THE BUSINESS TRIP) – Celine Quideau, Sean Ellis
THE ORANGE RISING STAR AWARD
* MICHAEL CERA
* NOEL CLARKE
* MICHAEL FASSBENDER
* REBECCA HALL
* TOBY KEBBELL