Full List of Nominations for the 2010 52nd Grammy Awards, Plus Photos From The Grammy Nominations Show
Beyonce and Taylor Swift Lead the 2010 Grammy Nominations!
Beyonce has been nominated for ten Grammy awards, and Taylor Swift has been nominated for eight for the 52nd annual ceremony. The nominations were announced at a concert last night where Black Eyed Peas and Nick Jonas & the Administration performed, while Katy Perry, LL Cool J, Ringo Starr, Smokey Robinson and others announced the acts that have been honoured with a nomination. We'll have to wait until 2010 for the ceremony, but you can be sure that there were some celebs partying last night thanks the the announcements, including David Guetta, Drake and Maxwell who all attended. Check out ALL the nominations under the cut!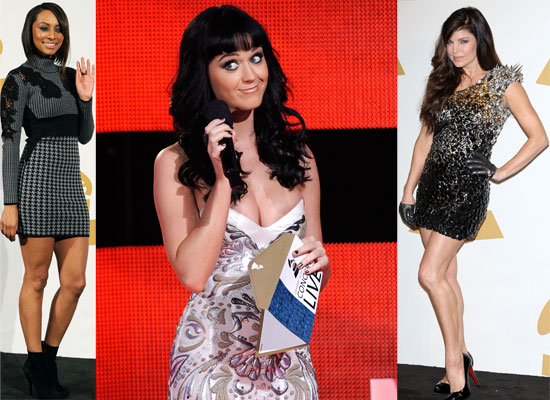 To see more photos and the full list of nominations, just read more.
RECORD OF THE YEAR
"Halo," Beyonce
"I Gotta Feeling," Black Eyed Peas
"Use Somebody," Kings of Leon
"Poker Face," Lady Gaga
"You Belong With Me," Taylor Swift
ALBUM OF THE YEAR
I Am...Sasha Fierce, Beyonce
The E.N.D., The Black Eyed Peas
The Fame, Lady Gaga
Big Whiskey and the Groogrux King, Dave Matthews Band
Fearless, Taylor Swift
SONG OF THE YEAR
"Poker Face," Lady Gaga
"Pretty Wings," Maxwell
"Single Ladies (Put a Ring on It)," Beyonce
"Use Somebody," Kings of Leon
"You Belong With Me," Taylor Swift
BEST NEW ARTIST
Zac Brown Band
Keri Hilson
MGMT
Silversun Pickups
The Ting Tings
BEST FEMALE POP VOCAL PERFORMANCE
"Hometown Glory," Adele
"Halo," Beyonce
"Hot N Cold," Katy Perry
"Sober," Pink
"You Belong With Me," Taylor Swift
BEST MALE POP VOCAL PERFORMANCE
"This Time," John Legend
"Love You," Maxwell
"Make It Mine," Jason Mraz
"If You Don't Know Me By Now," Seal
"All About the Love Again," Stevie Wonder
BEST POP PERFORMANCE BY A DUO OR GROUP WITH VOCALS
"I Gotta Feeling," Black Eyed Peas
"We Weren't Born to Follow," Bon Jovi
"Never Say Never," The Fray
"Sara Smile," Hall and Oates
"Kids," MGMT
BEST POP COLLABORATION WITH VOCALS
"Sea of Heartbreak," Rosanne Cash and Bruce Springsteen
"Love Sex Magic," Ciara and Justin Timberlake
"Lucky," Jason Mraz and Colbie Caillat
"Baby, It's Cold Outside," Willie Nelson and Norah Jones
"Breathe," Taylor Swift and Colbie Caillat
BEST POP INSTRUMENTAL PERFORMANCE
"Besame Mucho," Herb Alpert
"Throw Down Your Heart," Bela Fleck
"The Fire," Imogen Heap
"Phoenix Rise," Maxwell
"Funk Joint," Marcus Miller
BEST POP INSTRUMENTAL ALBUM
In Boston, Chris Botti
Legacy, Hiroshima
Potato Hole, Booker T. Jones
Modern Art The Rippingtons Featuring Russ Freeman
Down the Wire, Spyro Gyra
BEST POP ALBUM
The E.N.D., The Black Eyed Peas
Breakthrough, Colbie Caillat
All I Ever Wanted, Kelly Clarkson
The Fray, The Fray
Funhouse, Pink
BEST DANCE RECORDING
"Boom Boom Pow," The Black Eyed Peas
"When Love Takes Over," David Guetta and Kelly Rowland
"Poker Face," Lady Gaga
"Celebration," Madonna
"Womanizer," Britney Spears
BEST ELECTRONIC/DANCE ALBUM
Divided By Night, The Crystal Method
One Love, David Guetta
The Fame, Lady Gaga
Party Rock, LMFAO
Yes, Pet Shop Boys
BEST TRADITIONAL POP VOCAL ALBUM
A Swingin' Christmas, Tony Bennett
Michael Buble Meets Madison Square Garden, Michael Buble
Your Songs, Harry Connick, Jr.
Liza's At the Palace, Liza Minnelli
American Classic, Willie Nelson
BEST SOLO ROCK VOCAL PERFORMANCE
"Beyond Here Lies Nothin,'" Bob Dylan
"Change in the Weather," John Fogerty
"Dreamer," Prince
"Working on a Dream," Bruce Springsteen
"Fork in the Road," Neil Young
BEST ROCK PERFORMANCE BY A DUO OR GROUP WITH VOCALS
"Can't Find My Way Home," Eric Clapton and Steve Winwood
"Live in Technicolor II," Coldplay
"21 Guns," Green Day
"Use Somebody," Kings of Leon
"I'll Go Crazy If I Don't Go Crazy Tonight," U2
BEST HARD ROCK PERFORMANCE
"War Machine," AC/DC
"Check My Brain," Alice in Chains
"What I've Done," Linkin Park
"The Unforgiven III," Metallica
"Burn It to the Ground," Nickelback
BEST METAL PERFORMANCE
"Dissident Aggressor," Judas Priest
"Set to Fail," Lamb of God
"Head Crusher," Megadeath
"Senor Peligro," Ministry
"Hate Worldwide," Slayer
BEST ROCK INSTRUMENTAL PERFORMANCE
"A Day in the Life," Jeff Beck
"Warped Sister," Booker T. Jones
"Playing With Fire," Brad Paisley
"Mr. Surfer Goes Jazzin,'" Brian Setzer Orchestra
"Now We Run," Steve Vai
BEST ROCK SONG
"The Fixer," Pearl Jam
"I'll Go Crazy If I Don't Go Crazy Tonight," U2
"21 Guns," Green Day
"Use Somebody," Kings of Leon
"Working on a Dream," Bruce Springsteen
BEST ROCK ALBUM
Black Ice, AC/DC
Live From Madison Square Garden, Eric Clapton & Steve Winwood
21st Century Breakdown, Green Day
Big Whiskey and the Groogrux King, Dave Matthews Band
No Line on the Horizon, U2
BEST ALTERNATIVE MUSIC ALBUM
Everything That Happens Will Happen Today, David Byrne and Brian Echo
The Open Door, Death Cab for Cutie
Sounds of the Universe, Depeche Mode
Wolfgang Amadeus Phoenix, Phoenix
It's Blitz!, Yeah Yeah Yeahs
BEST FEMALE R&B VOCAL PERFORMANCE
"Single Ladies (Put a Ring On It)," Beyonce
"It Kills Me," Melanie Fiona
"That Was Then," Lalah Hathaway
"Goin' Thru Changes," Ledisi
"Lions, Tigers & Bears," Jazmine Sullivan
BEST MALE R&B VOCAL PERFORMANCE
"The Point of It All," Anthony Hamilton
"Pretty Wings," Maxwell
"Sobeautiful," Musiq Soulchild
"Under," Pleasure P
"There Goes My Baby," Charlie Wilson
BEST R&B PERFORMANCE BY A DUO OR GROUP WITH VOCALS
"Blame It," Jamie Foxx and T-Pain
"Chocolate High," India.Arie and Musiq Soulchild
"Ifuleave," Musiq Soulchild and Mary J. Blige
"Higher Ground," Robert Randolph and The Clark Sisters
"Love Has Finally Come at Last," Calvin Richardson and Ann Nesby
BEST TRADITIONAL R&B VOCAL PERFORMANCE
"At Last," Beyonce
"Soul Music," Anthony Hamilton
"Don't Let Me Be Lonely Tonight," Boney James and Quinn
"Sow Love," Ann Nesby
"Woman Gotta Have It," Calvin Richardson
BEST URBAN/ALTERNATIVE PERFORMANCE
"Daykeeper," The Foreign Exchange
"All Matter," Robert Glasper and Bilal
"Pearls," India.Arie and Dobet Gnahore
"A Tale of Two," Eric Roberson, Ben O'Neill, and Michelle Thompson
"Blend," Tonex
BEST R&B SONG
"Blame It," Jamie Foxx and T-Pain
"Lions, Tigers, and Bears," Jazmine Sullivan
"Pretty Wings," Maxwell
"Single Ladies (Put a Ring on It)," Beyonce
"Under," Pleasure P
BEST R&B ALBUM
The Point of It All, Anthony Hamilton
Testimony: Vol. 2, Love & Politics, India.Arie
Turn Me Loose, Ledisi
Blacksummers' Night, Maxwell
Uncle Charlie, Charlie Wilson
BEST CONTEMPORARY R&B ALBUM
I Am...Sasha Fierce, Beyonce
Intuition, Jamie Foxx
The Introduction of Marcus Cooper, Pleasure P
Ready, Trey Songz
Thr33 Ringz, T-Pain
BEST RAP SOLO PERFORMANCE
"Best I Ever Had," Drake
"Beautiful," Eminem
"D.O.A. (Death of Auto-Tune)," Jay-Z
"Day 'N' Nite," Kid Cudi
"Casa Bey," Mos Def
BEST RAP PERFORMANCE BY A DUO OR GROUP
"Too Many Rappers," Beastie Boys and Nas
"Crack A Bottle," Eminem, Dr. Dre, and 50 Cent
"Money Goes, Honey Stay," Fabolous and Jay-Z
"Make Her Say," Kid Cudi, Kanye West, and Common
"Amazing," Kanye West and Young Jeezy
BEST RAP/SUNG COLLABORATION
"Ego," Beyonce and Kanye West
"Knock You Down," Keri Hilson, Kanye West and Ne-Yo
"Run This Town," Jay-Z, Rihanna, and Kanye West
"I'm on a Boat," The Lonely Island and T-Pain
"Dead and Gone," T.I. and Justin Timberlake
BEST RAP SONG
"Best I Ever Had," Drake
"Day 'N' Nite," Kid Cudi
"Dead and Gone," T.I. and Justin Timberlake
"D.O.A. (Death of Auto-Tune)," Jay-Z
"Run This Town," Jay-Z, Rihanna, and Kanye West
BEST RAP ALBUM
Universal Mind Control, Common
Relapse, Eminem
R.O.O.T.S., Flo Rida
The Ecstatic, Mos Def
The Renaissance, Q-Tip
BEST FEMALE COUNTRY VOCAL PERFORMANCE
"Dead Flowers," Miranda Lambert
"I Just Call You Mine," Martina McBride
"White Horse," Taylor Swift
"Just a Dream," Carrie Underwood
"Solitary Thinkin," Lee Ann Womack
BEST MALE COUNTRY VOCAL PERFORMANCE
"All I Ask for Anymore," Trace Adkins
"People Are Crazy," Billy Currington
"High Cost of Living," Jamey Johnson
"Living for the Night," George Strait
"Sweet Thing," Keith Urban
BEST COUNTRY PERFORMANCE BY A DUO OR GROUP WITH VOCALS
"Cowgirls Don't Cry," Brooks & Dunn
"Chicken Fried," Zac Brown Band
"I Run to You," Lady Antebellum
"Here Comes Goodbye," Rascal Flatts
"It Happens," Sugarland
BEST COUNTRY COLLABORATION WITH VOCALS
"Beautiful World," Dierks Bentley and Patty Griffin
"Down the Road," Kenny Chesney and Mac McAnally
"Start a Band," Brad Paisley and Keith Urban
"I Told You So," Carrie Underwood and Randy Travis
"Everything But Quits," Lee Ann Womack and George Strait
BEST COUNTRY INSTRUMENTAL PERFORMANCE
"Under the (Five) Wire," Alison Brown
"The Crystal Merchant," The Greencards
"Mansinneedof," Sarah Jarosz
"Producer's Medley," Steve Wariner
BEST COUNTRY SONG
"All I Ask for Anymore," Trace Adkins
"High Cost of Living," Jamey Johnson
"I Run to You," Lady Antebellum
"People Are Crazy," Billy Currington
"White Horse," Taylor Swift
BEST COUNTRY ALBUM
The Foundation, Zac Brown Band
Twang, George Strait
Fearless, Taylor Swift
Defying Gravity, Keith Urban
Call Me Crazy, Lee Ann Womack
BEST NEW AGE ALBUM
Faith, Jim Brickman
Prayer for Compassion, David Darling
Laserium for the Soul, Henta
In a Dream, Peter Kater, Dominic Miller, Kenny Loggins, and Jaques Morelenbaum
Impressions of the West Lake, Kitaro
BEST CONTEMPORARY JAZZ ALBUM
Urbanus, Stefon Harris and Blackout
Sounding Point, Julian Lage
At World's Edge, Philippe Saisse
Big Neighborhood, Mike Stern
75, Joe Zawinul and The Zawinul Syndicate
BEST JAZZ VOCAL ALBUM
No Regrets, Randy Crawford and Joe Sample
Dedicated to You: Kurt Elling Sings The Music of Coltrane and Hartman, Kurt Elling
So In Love, Roberta Gambarini
Tide, Luciana Souza
Desire, Tierney Sutton
BEST AMERICANA ALBUM
Together Through Life, Bob Dylan
Electric Dirt, Levon Helm
Willie and the Wheel, Willie Nelson and Asleep at the Wheel
Wilco (The Album), Wilco
Little Honey, Lucinda Williams
BEST COMEDY ALBUM
Back From the Dead, Spinal Tap
A Colbert Christmas: The Greatest Gift of All!, Stephen Colbert
Internet Leaks, Weird Al Yankovic
My Weakness Is Strong, Patton Oswalt
Suckin' It for the Holidays, Kathy Griffin
Tall, Dark, & Chicano, George Lopez
BEST COMPILATION SOUNDTRACK ALBUM FOR MOTION PICTURE, TV, ETC
Cadillac Records
Quentin Tarantino's Inglourious Basterds
Slumdog Millionaire
True Blood
Twilight
BEST SCORE SOUNDTRACK ALBUM FOR MOTION PICTURE, TV, ETC
The Curious Case of Benjamin Button (Disc 1)
Harry Potter and the Half-Blood Prince
Milk
Star Trek
Up
BEST SONG WRITTEN FOR MOTION PICTURE, TV, ETC
"The Climb" (From Hannah Montana: The Movie), Miley Cyrus
"Decode" (From Twilight), Paramore
"Jai Ho" (From Slumdog Millionaire), A.R. Rahman, Sukhvinder Singh, Tanvi Shah, Mahalaxmi Iyer, and Vijay Prakash
"Once in a Lifetime" (From Cadillac Records), Beyonce
"The Wrestler" (From The Wrestler), Bruce Springsteen
PRODUCER OF THE YEAR (NON-CLASSICAL)
T Bone Burnett
Ethan Johns
Larry Klein
Greg Kurstin
Brendan O'Brien
BEST REMIXED RECORDING
"Don't Believe in Love (Dennis Ferrer Objektivity Mix)," Dennis Ferrer (Dido)
"The Girl and the Robot (Jean Elan Remix)," Jean Elan (Royksopp)
"I Want You (Dave Aude Remix)," Dave Aude, (Dean Coleman Featuring DCLA)
"No You Girls (Trentemoller Remix)," Anders Trentemoller (Franz Ferdinand)
"When Love Takes Over (Electro Extended Remix)," David Guetta (David Guetta Featuring Kelly Rowland)
BEST SHORT FORM MUSIC VIDEO
"Mr. Hurricane," Beast
"Boom Boom Pow," The Black Eyed Peas
"Life in Technicolor II," Coldplay
"Wrong," Depeche Mode
"Her Morning Elegance," Oren Lavie
BEST LONG FORM MUSIC VIDEO
In Boston, Chris Botti
Johnny Cash's America, Johnny Cash
Anita O'Day — The Life of a Jazz Singer — Anita O'Day
Love Pain and the Whole Crazy World Tour Live — Keith Urban
The Beatles Love — All Together Now — Various Artists