Full List of Nominations for the 2010 NME Awards Which Takes Place on February 24 in London
Arctic Monkeys Lead the NME Awards Nominations 2010!
The 2010 NME Awards are coming up on February 24 at Brixton Academy in London, and the nominees have just been announced! Arctic Monkeys lead the pack with six nominations, while Kasabian have five, and the now split Oasis are up for a few too. Jonas Brothers have a couple of nominations for Worst Band and Worst Album, while Simon Cowell competes with Liam and Noel Gallagher for Villain of the year. Lady GaGa, Florence and the Machine and Dizzee Rascal, Kings of Leon and Green Day are also up for awards this year!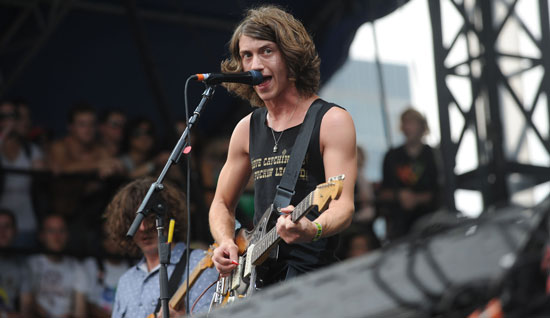 To check out the full list of nominations, just read more.
Best British Band —
Arctic Monkeys
Biffy Clyro
Kasabian
Muse
Oasis
Best International Band —
Green Day
Kings of Leon
Paramore
Vampire Weekend
Yeah Yeah Yeahs
Best Solo Artist —
Dizzee Rascal
Florence And The Machine
Jamie T
Julian Casablancas
Lady GaGa
Best New Band —
The Big Pink
Bombay Bicycle Club
Mumford & Sons
The xx
La Roux
Best Live Band —
Arctic Monkeys
Kasabian
Muse
Radiohead
Them Crooked Vultures
Best Album —
Arctic Monkeys – Humbug
Kasabian – West Ryder Pauper Lunatic Asylum
Muse – The Resistance
The Cribs – Ignore The Ignorant
The Horrors – Primary Colours
Best Track —
Animal Collective – "My Girls"
Arctic Monkeys – "Crying Lightning"
Florence And The Machine – "Rabbit Heart (Raise It Up)"
Jamie T – "Sticks N' Stones"
The Big Pink – "Dominos"
Best Video —
Arctic Monkeys – "Cornerstone"
Biffy Clyro – "The Captain"
Kasabian – "Fire"
The Maccabees – "Can You Give It"
Oasis – "Falling Down"
Best Live Event —
Blur at Hyde Park
Jay-Z at Alexandra Palace
Muse at Teignmouth
Oasis at Heaton Park
The Dead Weather at Shoreditch Church
Best Festival —
Download
Glastonbury
Reading And Leeds Festivals
T In The Park
V Festival
Best Dancefloor Filler —
Dizzee Rascal And Armand Van Helden – "Bonkers"
Florence And The Machine – "You've Got The Love"
La Roux – "In For The Kill" (Skream Remix)
Lady GaGa – "Poker Face"
Yeah Yeah Yeahs – "Zero"
Best TV Show —
The Inbetweeners
Never Mind The Buzzcocks
Peep Show
Skins
True Blood
Best Film —
(500) Days Of Summer
In The Loop
Inglourious Basterds
The Twilight Saga: New Moon
Where The Wild Things Are
Best DVD —
Kings of Leon – Live At The The O2 Arena
Flight Of The Conchords – Complete HBO Second Season
The Killers – Live From The Royal Albert Hall
The Mighty Boosh – Future Sailors
Nirvana – Live At Reading
Giving It Back Fan Award —
Kasabian and Noel Fielding for free "Vlad The Impaler" video
Danger Mouse for leaking "Dark Night Of The Soul"
Lily Allen for her Twitter ticket treasure hunt
Arctic Monkeys for their Oxfam golden tickets
Vampire Weekend for giving away "Horchata" from the album Contra
Hero Of The Year —
Beyoncé
Noel Gallagher
Rage Against The Machine
Matt Bellamy
Alex Turner
Villain Of The Year —
Noel Gallagher
Liam Gallagher
Simon Cowell
Kanye West
Lady GaGa
Best Dressed —
Lady GaGa
Liam Gallagher
Noel Fielding
Florence Welch
Karen O
Worst Dressed —
Lady GaGa
Matt Bellamy
Katy Perry
Liam Gallagher
Elly Jackson aka La Roux
Worst Album —
Green Day – 21st Century Breakdown
Lady GaGa – The Fame
The Jonas Brothers – Lines Vines Trying Times
U2 – No Line On The Horizon
Arctic Monkeys – Humbug
Worst Band —
Green Day
Oasis
Jonas Brothers
Paramore
JLS
Best Website —
Muse.mu
YouTube
Facebook
Twitter
Greenday.com
Best Album Artwork —
Muse – The Resistance
Green Day – 21st Century Breakdown
Kasabian – West Ryder Pauper Lunatic Asylum
The Cribs – Ignore The Ignorant
Manic Street Preachers – Journal For Plague Lovers
Best Band Blog —
Muse (Muse.mu and Twitter.com/muse)
Radiohead (Radiohead.com/deadairspace)
Noel Gallagher (Oasisinet.com)
Los Campesinos! (Loscampesinos.com)
Paramore (Paramore.net)