Full List of Nominees for the Empire Awards 2010 Including Robert Pattinson, Anna Kendrick, Aaron Johnson, Carey Mulligan,Avatar
All the Empire Award Nominations Announced!
The nominees for the Empire Awards 2010 have been announced, and you can decide who wins by voting for the nominees including Aaron Johnson, Emily Blunt, and Robert Pattinson. Avatar and Inglourious Basterds are both up for five awards each, while Carey Mulligan is up for best newcomer and best actress! Voting closes on March 10 — let me know who you want to win the trophies!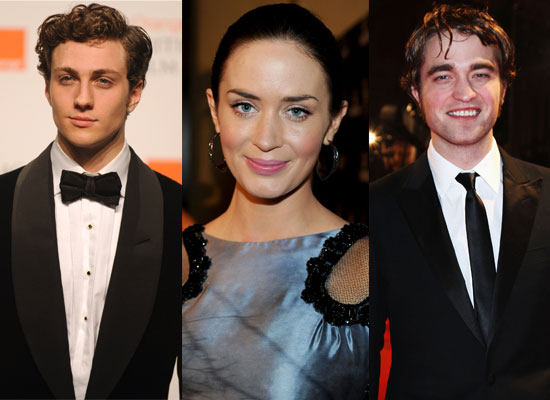 To check out the full list of nominees, just read more.
BEST NEWCOMER
Carey Mulligan (An Education)
Aaron Johnson (Nowhere Boy)
Sharlto Copley (District 9)
Anna Kendrick (Up In The Air/ New Moon)
Katie Jarvis (Fish Tank)
BEST THRILLER
Harry Brown
Public Enemies
Inglourious Basterds
The Hurt Locker
Sherlock Holmes
BEST HORROR
Let The Right One In
Paranormal Activity
Zombieland
Thirst
Drag Me To Hell
BEST COMEDY
In The Loop
A Serious Man
The Hangover
Up In The Air
The Men Who Stare At Goats
BEST SCI-FI / FANTASY
Moon
Star Trek
Avatar
District 9
The Imaginarium of Doctor Parnassus
BEST ACTOR
Sir Michael Caine (Harry Brown)
Christoph Waltz (Inglourious Basterds)
Robert Pattinson (New Moon)
Sam Worthington (Avatar)
Robert Downey Jr. (Sherlock Holmes)
BEST ACTRESS
Anne-Marie Duff (Nowhere Boy)
Carey Mulligan (An Education)
Zoe Saldana (Avatar)
Emily Blunt (The Young Victoria)
Melanie Laurent (Inglourious Basterds)
BEST DIRECTOR
James Cameron (Avatar)
Neill Blomkamp (District 9)
JJ Abrams (Star Trek)
Quentin Tarantino (Inglourious Basterds)
Kathryn Bigelow (The Hurt Locker)
BEST BRITISH FILM
Harry Brown
The Imaginarium of Doctor Parnassus
An Education
Nowhere Boy
In The Loop
BEST FILM
Avatar
Star Trek
District 9
Inglourious Basterds
The Hurt Locker