Full List of Winners For the 2010 Teen Choice Awards, Including Robert Pattinson, David Beckham, Twilight, Eclipse, Gossip Girl
Full List of Winners From the 2010 Teen Choice Awards!
The Teen Choice Awards were filmed last night, and though the show hasn't even aired in the US yet, we have all the winners. David Beckham won a surfboard for choice male athlete, Leighton Meester added to the Gossip Girl wins with the choice TV actress award, and Alex Meraz celebrated Eclipse's many wins. Don't forget to check out all our coverage of the TCAs to see all the stars that attended and what they got up to!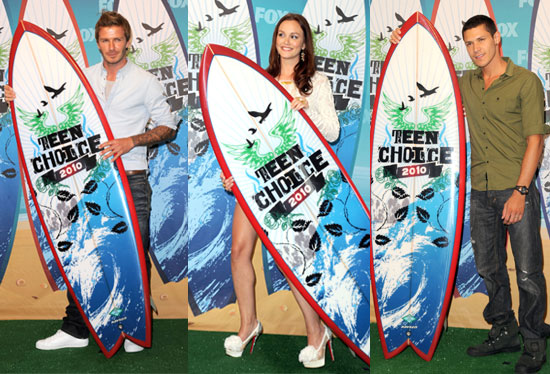 To see the long list of winners, and more photos including Megan Fox and The Vampire Diaries cast, just read more.
MOVIES
CHOICE MOVIE: ACTION ADVENTURE
Sherlock Holmes
CHOICE MOVIE ACTOR: ACTION ADVENTURE
Channing Tatum, G.I. Joe: The Rise of Cobra
CHOICE MOVIE ACTRESS: ACTION ADVENTURE
Rachel McAdams, Sherlock Holmes
CHOICE MOVIE: SCI-FI
Avatar
CHOICE MOVIE ACTOR: SCI-FI
Sam Worthington, Avatar
CHOICE MOVIE ACTRESS: SCI-FI
Zoe Saldana, Avatar
CHOICE MOVIE: FANTASY
New Moon
CHOICE MOVIE ACTOR: FANTASY
Taylor Lautner, New Moon
CHOICE MOVIE ACTRESS: FANTASY
Kristen Stewart, New Moon
CHOICE MOVIE: DRAMA
The Blind Side
CHOICE MOVIE ACTOR: DRAMA
Robert Pattinson, Remember Me
CHOICE MOVIE ACTRESS: DRAMA
Sandra Bullock, The Blind Side
CHOICE MOVIE: ROMANTIC COMEDY
Valentine's Day
CHOICE MOVIE ACTOR: ROMANTIC COMEDY
Ashton Kutcher, Valentine's Day
CHOICE MOVIE ACTRESS: ROMANTIC COMEDY
Sandra Bullock, The Proposal
CHOICE MOVIE: COMEDY
Date Night
CHOICE MOVIE ACTOR: COMEDY
Ashton Kutcher, Killers
CHOICE MOVIE ACTRESS: COMEDY
Tina Fey, Date Night
CHOICE MOVIE: HORROR/THRILLER
Paranormal Activity
CHOICE MOVIE ACTOR: HORROR/THRILLER
Leonardo DiCaprio, Shutter Island
CHOICE MOVIE ACTRESS: HORROR/THRILLER
Megan Fox, Jennifer's Body
CHOICE MOVIE: ANIMATED
Toy Story 3
CHOICE MOVIE: VILLAIN
Rachelle Lefevre, New Moon
CHOICE MOVIE: DANCE
Betty White and Sandra Bullock, The Proposal
CHOICE MOVIE: LIPLOCK
Robert Pattinson and Kristen Stewart, New Moon
CHOICE MOVIE: FIGHT
Mia Wasikowska vs. The Jabberwocky, Alice in Wonderland
CHOICE MOVIE: HISSY FIT
Miley Cyrus, The Last Song
CHOICE MOVIE: CHEMISTRY
Robert Pattinson and Kristen Stewart, New Moon
CHOICE SUMMER MOVIE
Eclipse
CHOICE SUMMER MOVIE STAR: MALE
Robert Pattinson, Eclipse
CHOICE SUMMER MOVIE STAR: FEMALE
Kristen Stewart, Eclipse
CHOICE MOVIE: MALE BREAKOUT
Liam Hemsworth, The Last Song
CHOICE MOVIE: FEMALE BREAKOUT
Taylor Swift, Valentine's Day
CHOICE MOVIE: MALE SCENE STEALER
Kellan Lutz, New Moon
CHOICE MOVIE: FEMALE SCENE STEALER
Ashley Greene, New Moon
TELEVISION
CHOICE TV SHOW: DRAMA
Gossip Girl
CHOICE TV ACTOR: DRAMA
Chace Crawford, Gossip Girl
CHOICE TV ACTRESS: DRAMA
Leighton Meester, Gossip Girl
CHOICE TV SHOW: FANTASY/SCI-FI
The Vampire Diaries
CHOICE TV ACTOR: FANTASY/SCI-FI
Paul Wesley, The Vampire Diaries
CHOICE TV ACTRESS: FANTASY/SCI-FI
Nina Dobrev, The Vampire Diaries
CHOICE TV SHOW: ACTION
NCIS: Los Angeles
CHOICE TV ACTOR: ACTION
Zachary Levi, Chuck
CHOICE TV ACTRESS: ACTION
Yvonne Strahovski, Chuck
CHOICE TV SHOW: COMEDY
Glee
CHOICE TV ACTOR: COMEDY
Jonas Brothers, JONAS
CHOICE TV ACTRESS: COMEDY
Selena Gomez, Wizards of Waverly Place
CHOICE TV: ANIMATED SHOW
Family Guy
CHOICE TV: REALITY SHOW
Keeping Up With the Kardashians
CHOICE TV: REALITY COMPETITION SHOW
American Idol
CHOICE TV: MALE REALITY/VARIETY STAR
Lee DeWyze, American Idol
CHOICE TV: FEMALE REALITY/VARIETY STAR
The Kardashians, Keeping Up With the Kardashians
CHOICE TV: VILLAIN
Ian Somerhalder, The Vampire Diaries
CHOICE TV: PERSONALITY
Ryan Seacrest
CHOICE TV: BREAKOUT SHOW
The Vampire Diaries
CHOICE TV: FEMALE SCENE STEALER
Hilary Duff, Gossip Girl
CHOICE TV: MALE SCENE STEALER
Chris Colfer, Glee
CHOICE TV: FEMALE BREAKOUT STAR
Nina Dobrev, The Vampire Diaries
CHOICE TV: MALE BREAKOUT STAR
Paul Wesley, The Vampire Diaries
CHOICE TV: PARENTAL UNIT
Mike O'Malley, Glee
CHOICE SUMMER TV SHOW
Pretty Little Liars
CHOICE SUMMER TV ACTRESS
Lucy Hale, Pretty Little Liars
CHOICE SUMMER TV ACTOR
Ian Harding, Pretty Little Liars
MUSIC
CHOICE MUSIC: MALE ARTIST
Justin Bieber
CHOICE MUSIC: FEMALE ARTIST
Lady Gaga
CHOICE MUSIC: GROUP
Selena Gomez & The Scene
CHOICE MUSIC: RAP ARTIST
Eminem
CHOICE MUSIC: R&B ARTIST
Beyoncé
CHOICE MUSIC: ROCK GROUP
Paramore
CHOICE MUSIC: MALE COUNTRY ARTIST
Keith Urban
CHOICE MUSIC: FEMALE COUNTRY ARTIST
Taylor Swift
CHOICE MUSIC: COUNTRY GROUP
Lady Antebellum
CHOICE MUSIC: SINGLE
"California Gurls," Katy Perry
CHOICE MUSIC: HOOK UP
"Airplanes," B.o.B featuring Hayley Williams
CHOICE MUSIC: MALE BREAKOUT ARTIST
Justin Bieber
CHOICE MUSIC: FEMALE BREAKOUT ARTIST
Selena Gomez & The Scene
CHOICE MUSIC: LOVE SONG
"When I Look At You", Miley Cyrus
CHOICE MUSIC: R&B TRACK
"OMG," Usher
CHOICE MUSIC: RAP/HIP-HOP TRACK
"Love the Way You Lie," Eminem featuring Rihanna
CHOICE MUSIC: ROCK TRACK
"Ignorance", Paramore
CHOICE MUSIC: COUNTRY SONG
"Fifteen," Taylor Swift
CHOICE MUSIC: POP ALBUM
My World 2.0, Justin Bieber
CHOICE MUSIC: ROCK ALBUM
Brand New Eyes, Paramore
CHOICE MUSIC: R&B ALBUM
Jason Derulo, Jason Derulo
CHOICE MUSIC: RAP ALBUM
Relapse, Eminem
CHOICE MUSIC: COUNTRY ALBUM
Fearless, Taylor Swift
CHOICE SUMMER MUSIC STAR: MALE
Justin Bieber
CHOICE SUMMER MUSIC STAR: FEMALE
Lady Gaga
CHOICE SUMMER MUSIC SONG
"California Gurls", Katy Perry
SPORTS
CHOICE ATHLETE: MALE
David Beckham
CHOICE ATHLETE: FEMALE
Serena Williams
CHOICE ACTION SPORTS ATHLETE: MALE
Ryan Scheckler
CHOICE ACTION SPORTS ATHLETE: FEMALE
Maya Gabeira
OTHER
CHOICE COMEDIAN
Ellen DeGeneres
CHOICE MALE HOTTIE
Taylor Lautner
CHOICE FEMALE HOTTIE
Megan Fox
CHOICE RED CARPET FASHION ICON MALE
Taylor Lautner
CHOICE RED CARPET FASHION ICON FEMALE
Selena Gomez
CHOICE CELEBRITY FASHION LINE
"Miley and Max" Miley Cyrus and Max Azria
CHOICE TWIT
Ellen DeGeneres
CHOICE WEB STAR
Shane Dawson
CHOICE VIDEO GAME
The Sims 3
CHOICE SMILE
Taylor Lautner
CHOICE ACTIVIST
Shakira
CHOICE AMERICAN IDOL ALUM
David Archuleta
MOST FANATIC FANS
Twilight cast