Full List Of Winners and Photos From 2009 Oscars / Academy Awards Featuring Kate Winslet and Danny Boyle
All The Winners From The 2009 Oscars!
The 2009 Oscars took place in LA last night with our fellow Brits taking home a huge number of awards! Slumdog Millionaire was the big winner with eight gold statues including Best Picture and Best Director for Danny Boyle, while Kate Winslet won Best Actress for her role in The Reader — here's what she had to say in the press room following her win! Sean Penn won Best Actor for his role in Milk, beating out Mickey Rourke to the gong, while Penelope Cruz and Heath Ledger won the Best Supporting trophies, with Heath's award being picked up by his family. Pop, Buzz and Molly attended the ceremony, so don't forget to check out all the gossip from them, and stay tuned to PopSugar UK for more news!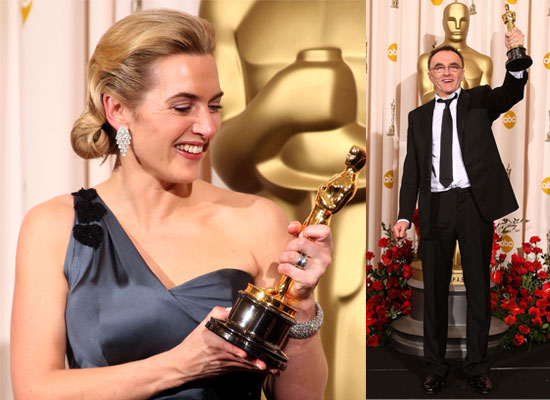 Wall-E, Man On Wire, The Duchess and The Curious Case of Benjamin Button all won statues at the ceremony last night, so for a full list of winners, and photos from the press room of the presenters and winners, just read more.
Best picture: Slumdog Millionaire
Best director: Danny Boyle Slumdog Millionaire
Best actress: Kate Winslet The Reader
Best actor: Sean Penn Milk
Best supporting actress: Penelope Cruz Vicky Cristina Barcelona
Best supporting actor: Heath Ledger The Dark Knight
Best original screenplay: Milk
Best adapted screenplay: Slumdog Millionaire
Best animated feature film: Wall-E
Best animated short film: La Maison en Petits Cubes
Art direction: The Curious Case of Benjamin Button
Costume design: The Duchess
Make-up: The Curious Case of Benjamin Button
Cinematography: Slumdog Millionaire
Best live action short film: Spielzeugland (Toyland)
Best documentary feature: Man on Wire
Best documentary short subject: Smile Pinki
Visual effects: The Curious Case of Benjamin Button
Sound editing: The Dark Knight
Sound mixing: Slumdog Millionaire
Film editing: Slumdog Millionaire
Best original score: Slumdog Millionaire
Best original song: "Jai Ho" — Slumdog Millionaire
Best foreign language film: Departures (Japan)
Images include: Sarah Jessica Parker, Penelope Cruz, Jennifer Aniston, Jack Black, the Ledger family, Christopher Walken, Cuba Gooding Jr, Alan Arkin, Kevin Kline, Joel Grey, Seth Rogen, Anjelica Huston, Tilda Swinton, Goldie Hawn, Eva Marie Saint, Whoopi Goldberg, Kate Winslet, Sean Penn, Marion Cotillard, Sir Ben Kingsley, Robert De Niro, Michael Douglas, Adrien Brody, Anthony Hopkins, Daniel Craig, Danny Boyle, Tina Fey, Daniel Craig, A.R. Rahman, Dustin Lance Black.