Full List of Winners and Photos From Backstage in the Press Room at the Oscars 2010
See All the Winners From the Oscars 2010!
Here's the full list of winners from the Oscars! The ceremony took place in Hollywood last night, and the stars are all still out at the afterparties celebrating their wins and successes this year. Kathryn Bigelow's The Hurt Locker took home some major awards of the the night with best picture, best original screenplay and best director — she's the first female director to win the award! In the acting categories, Jeff Bridges took the best actor trophy for Crazy Heart, Mo'Nique won for Precious, Christoph Waltz for Inglourious Basterds and Sandra Bullock accepted her best actress award for The Blind Side.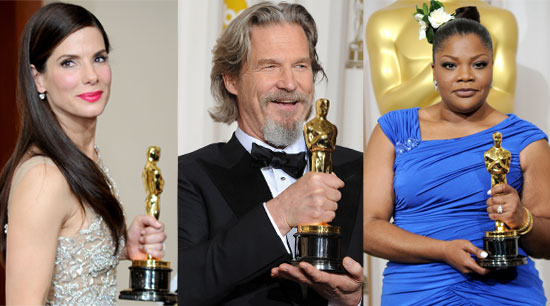 Check out the full list of winners under the jump and let me know what you think — just read more.
BEST PICTURE
The Hurt Locker
BEST DIRECTOR
Kathryn Bigelow, The Hurt Locker
BEST SUPPORTING ACTRESS
Mo'Nique, Precious
BEST SUPPORTING ACTOR
Christoph Waltz, Inglourious Basterds
BEST ACTRESS
Sandra Bullock, The Blind Side
BEST ACTOR
Jeff Bridges, Crazy Heart
BEST ORIGINAL SCREENPLAY
Mark Boal, The Hurt Locker
BEST ADAPTED SCREENPLAY
Geoffrey Fletcher, Precious: Based on the Novel "Push" by Sapphire
BEST FOREIGN FILM
The Secret in Their Eyes (El Secreto de Sus Ojos) (Argentina)
BEST ANIMATED FEATURE FILM
Up
BEST ACHIEVEMENT IN ART DIRECTION
Avatar
BEST ACHIEVEMENT IN CINEMATOGRAPHY
Avatar
BEST ACHIEVEMENT IN COSTUME DESIGN
The Young Victoria
BEST DOCUMENTARY FEATURE
The Cove
BEST DOCUMENTARY SHORT SUBJECT
Music by Prudence
BEST ACHIEVEMENT IN FILM EDITING
The Hurt Locker
ACHIEVEMENT IN MAKEUP
Star Trek
BEST ORIGINAL SCORE
Up
BEST ORIGINAL SONG
"The Weary Kind" from Crazy Heart
BEST ANIMATED SHORT FILM
Logorama
BEST LIVE ACTION SHORT FILM
The New Tenants
ACHIEVEMENT IN SOUND EDITING
The Hurt Locker
ACHIEVEMENT IN SOUND MIXING
The Hurt Locker
ACHIEVEMENT IN VISUAL EFFECTS
Avatar
Images include: Jeff Bridges, Christoph Waltz, Pete Docter, Nicolas Schmerkin, Macaulay Culkin, Barbra Streisand, Sandra Bullock, Geoffrey Fletcher, Mark Boal, Kathryn Bigelow, Greg Shapiro, Rachel McAdams, Jake Gyllenhaal, Zac Efron, Mo'Nique, Robing Williams, Bradley Cooper, Gerard Butler, Sandy Powell, Ryan Bingham, Amanda Seyfried, Tom Ford, Matthew Broderick, Ally Sheedy, Molly Ringwald, Judd Nelson, Jon Cryer and Anthony Michael Hall.