Full list of Nominations for the 2010 Brit Awards
Brit Awards 2010 Nominations Announced!
Following the announcement that Robbie Williams will receive the Outstanding Contribution to Music Award at the Brit Awards last October, the rest of the nominees have been announced tonight! Florence & the Machine have three nominations, as does Lady GaGa, JLS, Lily Allen and Pixie Lott. There's also an extra category this year honouring the best Brits performance from the last 30 years — Bros, the Bee Gees, Michael Jackson, Take That, Robbie, Girls Aloud, The Who, Scissor Sisters and Spice Girls are among the many nominees. Check out the full list under the cut!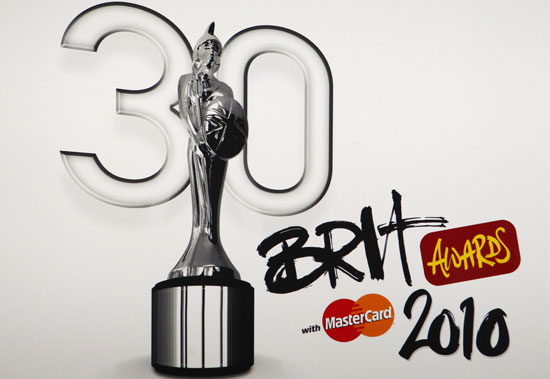 To see the full list of nominees, just read more.
BRITISH MALE SOLO ARTIST
Calvin Harris
Dizzee Rascal
Mika
Paolo Nutini
Robbie Williams
BRITISH FEMALE SOLO ARTIST
Bat for Lashes
Florence & the Machine
Leona Lewis
Lily Allen
Pixie Lott
BRITISH BREAKTHROUGH ACT
Florence & the Machine
Friendly Fires
JLS
La Roux
Pixie Lott
BRITISH GROUP
Doves
Friendly Fires
JLS
Kasabian
Muse
MasterCard BRITISH ALBUM
Dizzee Rascal - Tongue n Cheek
Florence & the Machine - Lungs
Kasabian - West Ryder Pauper Lunatic Asylum
Lily Allen - It's Not Me, It's You
Paolo Nutini - Sunny Side Up
BRITISH SINGLE
Alesha Dixon - "Breathe Slow"
Alexandra Burke Ft Flo Rida - "Bad Boys"
Cheryl Cole - "Fight For This Love"
Joe McElderry - "The Climb"
JLS - "Beat Again"
La Roux - "In For The Kill"
Lily Allen - "The Fear"
Pixie Lott - "Mama Do"
Taio Cruz - "Break Your Heart"
Tinchy Stryder Ft N-Dubz - "Number 1"
BRITs PERFORMANCE OF 30 YEARS
Bee Gees - Stayin' Alive/How Deep is Your Love (1997)
Bros - I Owe you Nothing (1989)
Coldplay - Clocks (2003)
Eurythmics & Stevie Wonder - Angel (1999)
Girls Aloud - The Promise (2009)
Kanye West - Gold Digger (2006)
Kylie Minogue - Can't Get You Out of my Head (2002)
Michael Jackson - Earth Song (1996)
Paul McCartney - Live & Let Die (2008)
Pet Shop Boys - Go West (1994)
Robbie Williams & Tom Jones - The Full Monty Medley (1998)
Scissor Sisters - Take Your Mama (2005)
Spice Girls - Wannabe/Who Do You Think You Are (1997)
Take That - Beatles Medley I Wanna Hold Your Hand/ Hard Day's Night/ She Loves You (1994)
The Who - Who Are You (1988)
INTERNATIONAL MALE SOLO ARTIST
Bruce Springsteen
Eminem
Jay-Z
Michael Buble
Seasick Steve
INTERNATIONAL FEMALE SOLO ARTIST
Lady Gaga
Ladyhawke
Norah Jones
Rihanna
Shakira
INTERNATIONAL BREAKTHROUGH ACT
Animal Collective
Daniel Merriweather
Empire of the Sun
Lady Gaga
INTERNATIONAL ALBUM
Animal Collective - Merriweather Post Pavilion
Black Eyed Peas - The E.N.D.
Empire of the Sun - Walking on a Dream
Jay-Z - The Blueprint
Lady Gaga - The Fame
OUTSTANDING CONTRIBUTION TO MUSIC
Robbie Williams