Further Details on Stephen Gately's Death, Tributes to Stephen Gately From Elton John and Westlife
Tributes to Stephen Gately as Post-Mortem Planned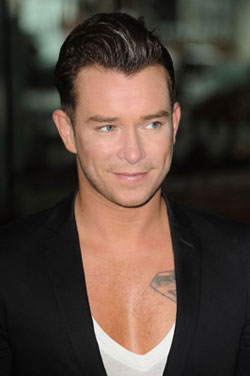 Famous friends have been paying tribute to Stephen Gately, who died at the weekend while on holiday in Majorca. Westlife have written about their shock on their website: "He was a friendly, positive spirit and a passionate performer". Stephen Fry tweeted: "He was loveable and sweet natured and will be hugely missed". Elton John said: "David and I are stunned by this tragedy. Stephen was the kindest, gentlest soul."
A post-mortem is expected to begin tomorrow, while a spokesman for Stephen's family said:
"There's no foul play involved and it's not suicide. It's just a tragic accident is what we've been told and we're happy that that is correct information. There is nothing untoward, it's not drugs, we don't believe, it's not suicide, it's not murder, it's not a fight. That's what we've been told."
Reports claim Stephen had been drinking for eight hours during the course of the evening, with suggestions that he may have choked on his own vomit during his sleep. Police are reportedly trying to trace a man who was invited back to the apartment on the night Stephen died, but they do not think he was involved in Stephen's death and are looking for a testimony to help clarify the situation. Our thoughts are with Stephen's family and friends.