Gallery Of 2008 Tony Awards Featuring Kristin Chenoweth, Whoopi Goldberg, Daniel Radcliffe, Megan Mullally, Glenn Close and more
Theatre's Top Talent At The Tony Awards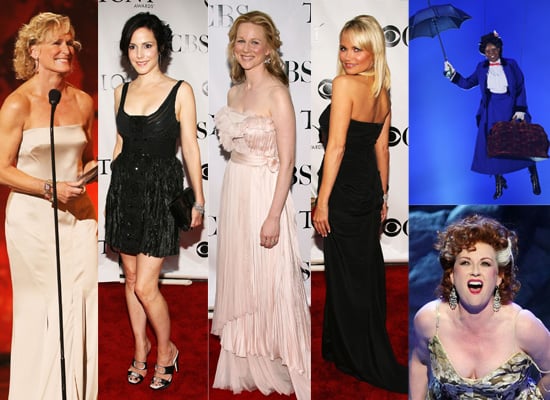 0
Theatre's Top Talent At The Tony Awards
Last night the Tony Awards took place in New York – giving plaudits to the hard workers hoofing it night after night on Broadway – and my girl Buzz has info on all the winners. Most of the red carpet ladies stuck to elegant dresses in dark and pale shades, with occasional bursts of bright colour from Marisa Tomei, Christine Baranski and Gina Torres. Kristin Chenoweth (Pushing Daisies) and Mary-Louise Parker looked stunning in their black dresses, as did Glenn Close when she stepped on to the stage to present an award in her fluid number.
Whoopi Goldberg presided over the ceremony, employing a range of outlandish costumes from Brit nanny Mary Poppins to Sebastian the crab from The Little Mermaid. Megan Mullally (Will And Grace) was almost unrecognisable as she performed a number, and Daniel Radcliffe looked a little pale before he presented an award with Equus co-star Richard Griffiths.
To see more photos from the red carpet and the ceremony, just
Images include: Gabriel Byrne, Daniel Radcliffe, Richard Griffiths, Megan Mullally, Whoopi Goldberg, Glenn Close, Marisa Tomei, Christine Baranski, Laura Linney, Gina Torres, Laurence Fishburne, Mary-Louise Parker, Brooke Shields, Idina Menzel, Adam Duritz, Bradley Whitford, Gina Gershon, Rufus Sewell, John Lithgow, Taye Diggs, Patrick Stewart, Liza Minnelli, John Waters, Alec Baldwin, Stephen Baldwin, Tom Stoppard.