Gallery of Elle Women in Hollywood Pictures, Pictures of Emily Blunt in Nude Dress, Photos of Katie Holmes in Sheer Dress
Elle Pays Tribute to Cover Star Women in Hollywood
Elle magazine hosted its annual Women in Hollywood Tribute at the Four Seasons Hotel in Beverly Hills last night, and gorgeous British women rubbed shoulders with their American counterparts. Cat Deeley kept it classic in an LBD and L'Oreal Paris Legend Award recipient Julie Andrews was elegant in her black floor-length frock. All five November cover stars were in attendance, with Renee Zellweger dazzling in bright red, Emily Blunt cute in a nude number and Katie Holmes daring in a sheer black outfit alongside fellow cover stars Julianne Moore and Zoe Saldana. John Krasinski joined his fiancée to her celebrate, and Emily told Elle: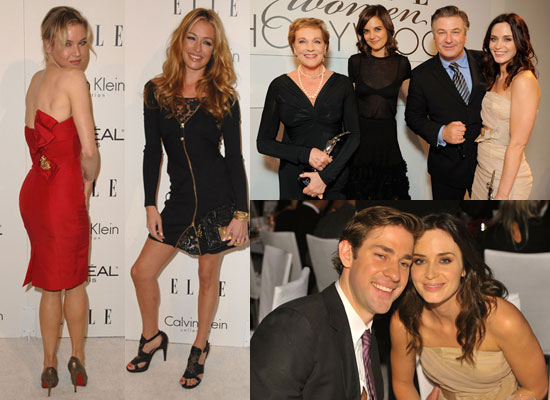 "I feel the fear of the business creep under my skin in L.A. in a way that it doesn't in England. It's funny – I feel like beauty is in the eye of the beholder, unless you're in Hollywood! It's shameful how you have to look a certain way. Women are simply not allowed to grow old gracefully. That's why I love playing character parts, because I'm not pigeonholed into trying to remain young forever to play the ingénue or romantic lead."
My girl FabUK wants to know do you love or hate Emily's look?
To see more pictures, including Kat Dennings, Robin Wright Penn, Bill Nighy, Diane Kruger, Amber Rose, Becki Newton, Julianne Moore, Zoe Saldana and Jenna Dewan, read more.
Images include: Katie Holmes, Emily Blunt, Cat Deeley, Renee Zellweger, Julie Andrews, Kat Dennings, Robin Wright Penn, Alec Baldwin, John Krasinski, Bill Nighy, Diane Kruger, Amber Rose, Becki Newton, Julianne Moore, Benicio Del Toro, Jenna Dewan, Zoe Saldana