Gallery of London Film Festival Nicholas Hoult Colin Firth Pictures, Gallery of Rome Film Festival George Clooney Pictures
London and Rome Host Film Stars Including Honest George
Several actors walked the red carpet this weekend at the London Film Festival and Rome Film Festival. Nicholas Hoult, Tom Ford, Colin Firth and Matthew Goode looked handsome in their suits at the premiere for A Single Man in London, and the capital also saw the premiere of Viggo Mortensen's The Road. Helen Mirren was in Rome for the The Last Station, and Terry Gilliam and Lily Cole were also in Italy for The Imaginarium Of Doctor Parnassus premiere. Director Jason Reitman was in London for the premiere of Up in the Air on Sunday, having joined George Clooney and Elisabetta Canalis for the Rome premiere the night before! As part of his promotion for his films, George has opened up about his relationships and growing old: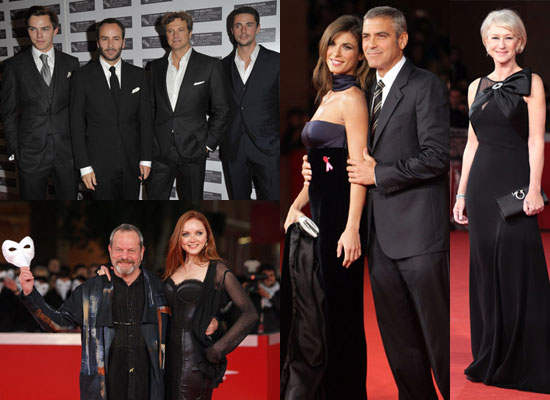 On relationships: "I've had some absolutely great relationships and some not so great relationships. I've been in some relationships where I've felt terribly alone. Just because you're with someone it doesn't mean you're incredibly happy and complete. I've had some easy and natural, made-sense breakups as well as some rough ones. I deal with them the same way we all do: I'm successful with some and not so successful with others."
On getting older: "I'm kind of comfortable with getting older because it's better than the other option, which is being dead. So I'll take getting older. It's an interesting thing to be able to watch yourself grow older on screen. I was watching Up In The Air and I thought, 'Jesus, who's the old, grey-haired guy?' And it was me."
George also revealed he played a prank on Matt Damon to make his pal think he was gaining weight, and is working on a prank for his next victim Brad Pitt!
To see more pictures from the weekend, including Ben Kingsley, Rose McGowan, Viggo Mortensen, Jason Reitman, Vera Farmiga and Anna Kendrick, just read more.
Images include: George Clooney, Elisabetta Canalis, Helen Mirren, Colin Firth, Nicholas Hoult, Matthew Goode, Tom Ford, Ben Kingsley, Rose McGowan, Lily Cole, Terry Gilliam, Jason Reitman, Vera Farmiga, Anna Kendrick, Viggo Mortensen