Gallery of Photos of David Beckham at LAX, Video of David Beckham Talking About His Controversial New Beard,
David Beckham Talks Beards and Lands Back in LA
David Beckham has arrived back in LA after playing as part of the England squad in a match against Belarus earlier this week. Man of the Match David helped the team win 3-0, although the justification of his MotM win has been called into question. His beard is making more headlines though, with his brand new Wolverine look being mostly disliked. David's taking it all good-naturedly, saying it's staying and that he went "camping with the kids and got a bit carried away." Check out what else he has to say in the video after the jump! Today it's been announced that David will also make an appearance at the draw for the 2010 World Cup to try and boost England's hopes of winning the 2018 tournament — fingers crossed!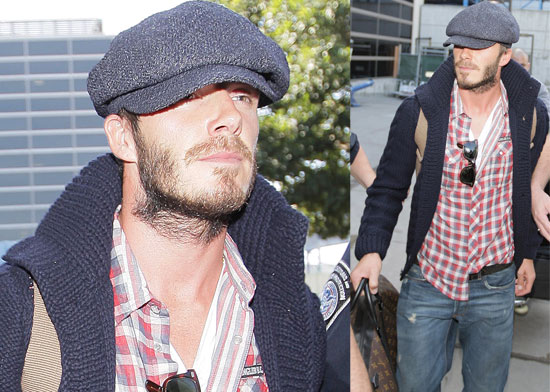 To see David talk about his hairy face, just read more.