Gallery of Photos of Jonathan Ross, Russell Brand and Noel Gallagher at Music Industry Trusts' Award Ceremony Honouring Jonathan
Noel and Russell Celebrate With Award Winner Jonathan
Jonathan Ross was presented with a Music Industry Trusts' award by George Michael last night, for his "hugely influential exposure for new artists". There was a video tribute shown at the event too, where stars like Will Smith, Sir Tom Jones, Cheryl Cole and U2 sent messages and thanks to Jonathan. The man himself called the award itself "shoddy", but got serious when he said, ''But it's what it represents... and I'm touched and I don't feel worthy.''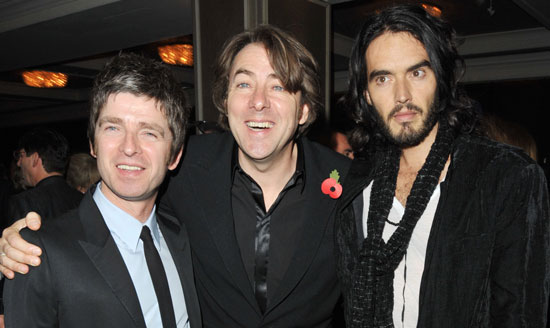 Jonathan was joined by his wife Jane Goldman, Stereophonics singer Kelly Jones, Noel Gallagher, and his fellow troublemaker Russell Brand. Russell's been spending a lot of time in LA with Katy Perry lately, but is back in the UK for some stand up gigs and last night's award ceremony, where he said of Jonathan:
"They can't give that man enough awards. When will Pulitzer acknowledge him and those fools from Nobel? His musical knowledge is very diverse, he knows about everything. He's an encyclopaedia of a man, without having to go door-to-door selling.''
To see more photos from the Music Industry Trusts' ceremony, just read more.