Gallery of Photos of Kate Hudson in Elle UK Magazine Plus Extracts from Her Interview
Kate Hudson Gets Candid About Men and Botox in Elle
Kate Hudson is looking super fit and toned as she stars on the front cover of December's issue of Elle magazine! She talked to them exclusively about a range of subjects from her upbringing, to her rumoured engagement and her thoughts on cosmetic surgery. Here's some extracts from her interview: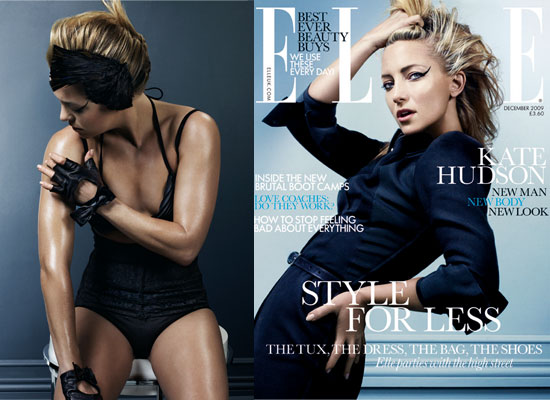 On boys: "I sometimes feel like when you're talking to boys, they just hear certain keywords. But if you had a bubble above their head, they'd be thinking about game scores, masturbation and food... I love boys, but I believe they're really simple. Every guy likes to say that they're complicated, but they're so easy to figure out. What did that Dr Laura say? Something like, 'All men want is sex and for you to make them a sandwich.' I thought that was really funny – and not entirely untrue."
On her rumoured engagement to Alex Rodriguez: "Did you know that it was this one [ring], on my right hand? I hear about this and I'm like, 'Why would I even respond? What would I say if you're going to lie about something ridiculous?' And if you really did your job, you'd look at the pictures taken that day and realise it was on my right hand."
On cosmetic surgery: "I was in a press conference once, and someone says, 'So, I can tell you've never had Botox!' Is that a compliment? Or are you trying to say I'm starting to get wrinkles? I literally was like, 'What?' Everyone's so obsessed with who gets Botox, but it's great! Are you kidding? The fact that women can avoid going under the knife, and get a little Botox treat and not have to worry about it? I'm glad it's there for when it's time."
To see what Kate has to say on her upbringing and the joys of being a girl, just read more.
On her upbringing: "I grew up in a family where, if you felt any kind of suffering or sadness, if you didn't go there and really understand it and delve into it, you wouldn't understand what it was like to be really joyful."
On the joys of being a girl: "I love being a girl. I love clothes and I love the rituals of facials and body treatments, all the stuff girls get, make-up, scarves, hats... And we're like a tribe. That's just our nature. You get a group of women together and, somehow, we keep it together. I love that we can be that powerful, as a group. Men, you know, it's survival of the fittest."
Kate's full interview appears in the December issue of Elle, on sale tomorrow!