Gallery of Photos of Kate Moss and Jamie Hince Sharing a Cigarette in London, Kate Moss Doesn't Like Being Famous
Kate Moss Doesn't Like Fame and Dotes on Her Daughter
Kate Moss and Jamie Hince were out in London at the weekend looking as close as ever as they walked down the road chatting and sharing a cigarette. In The Observer this weekend, Kate spoke about her latest collection for Topshop as well as fame and what she's most proud of in her life — her daughter, Lila Grace. Here's a couple of extracts from her interview: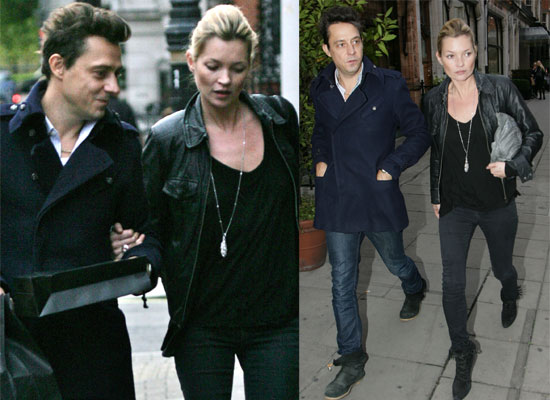 On Fame: "When I work with photographers I become a muse, sort of. But it's not me. It's this character that they make me into. I've no idea why people are so interested in me. It makes me a bit uncomfortable talking about it, actually. I don't like being famous, no. It... encroaches on your life. A lot. It's something I'm still learning to deal with. If I can keep people interested in my work for another few years I'll be happy."
On Lila Grace: "But the thing I'm always most proud of is my daughter. She's seven now, and vice captain of her class! My goodness! I've never been vice captain of anything! She wants to be a chef, and her imaginary husband is a chef too. I was mother of the bride at their imaginary wedding, standing on the side holding her imaginary baby."
You can read the rest here, but what do you think — do you see Kate in magazines and Kate in candid photos as different people?