Gallery of Photos of Kylie Minogue & Julianne Moore at Art Awards, Dannii Minogue Talks About Her Playboy Shoot & Kylie's Cancer
Kylie and Julianne Get Arty, While Dannii Dishes to Piers
Kylie Minogue was glowing at an Art Awards event in New York City yesterday, wearing a shimmering nude dress and sparkly shoes. Earlier she'd looked casual wearing some large geek chic black rimmed glasses and a checked shirt as she arrived in the city at JFK airport, but she glammed up for the event which she attended alongside Julianne Moore. Accompanied by her hubby Bart Freundlich, Julianne looked fab in her slate grey dress.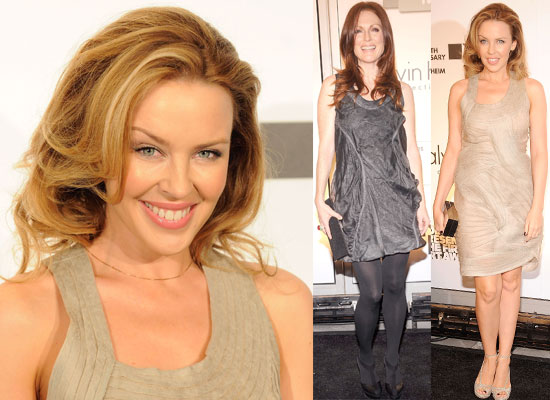 Kylie's sister Dannii Minogue will appear on Piers Morgan's Life Stories this weekend to talk about some tough times in her life including doing her nude shoot in Playboy to get out of debt, and also talking about Kylie's battle with cancer. She revealed that the family are still cautious regarding the illness, particularly as her sister hasn't reached the five year all clear mark yet. Will you watch tomorrow night?
To see more photos of Kylie and Julianne, just read more.