Gallery of Photos of Lily Allen Live in Milan, Lily Allen Is To Set Up Her Own Record Label, Lily Allen in the West End?
Lily's Live in Milan But Will Take a Break to Start a Label
Lily Allen performed in Milan last night as part of her latest tour, looking comfortable in her kooky style as she padded around the stage with no shoes on. Wearing her familiar tights that looks like stockings, and with a glittery dragonfly on her face, she wore a layered look in contrast to the more dressed up look she wore in Amsterdam. She has tourdates booked up until March 2010, however after those finish she has talked about taking a break and appearing in a West End show as well as setting up a record label. She said: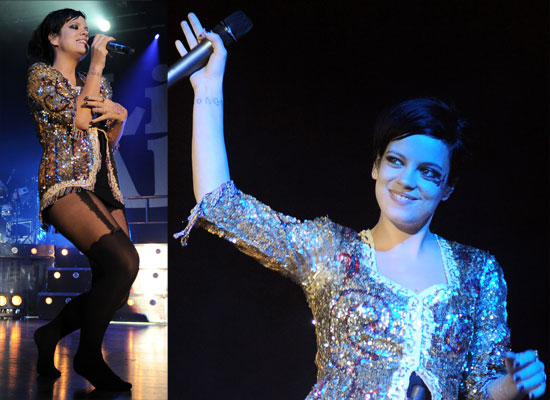 "I'm not retiring from music. I might retire from singing for a bit. I feel like maybe having a bit of a break from doing that and do something else for a while. I love working in music. I like to help other bands so I'm thinking about – well, we're in talks about – setting up my own label and dedicating the next couple of years to that."