Gallery of Photos of Russell Brand and Katy Perry Kissing in LA, Extracts of an Interview with Russell Discussing Relationships
Russell Kisses Katy and Talks About Romance and Kids
Russell Brand was out in LA with Katy Perry over the weekend, kissing her in her car as she dropped him off. The cute couple have been spending a lot of time together lately, and with Katy Europe-bound for the MTV EMAs this week, and Russell in London for a gig tomorrow night it looks like they'll be stealing some moments together over here too! In an interview with the Sunday Times published this weekend, Russell spoke a little about how Katy's changing his life, here's some extracts from his fascinating interview: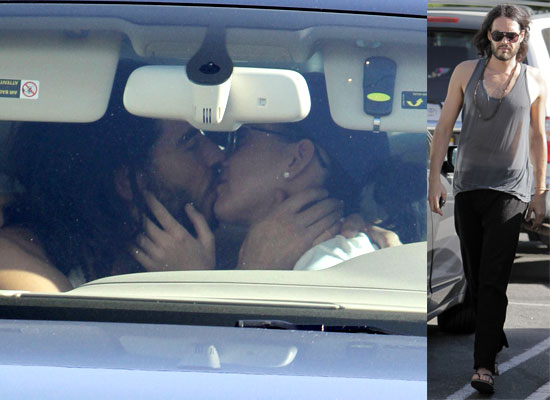 On how his life is changing: "I am living in a different way at the moment. Regardless of what happens in my current situation, I am unlikely to be satisfied with the calamitous promiscuity of the preceding five or six years."
On wanting to slow down and feeling broody: "I am [feeling broody], actually. It's seven years since I took drugs. I've made a film. I don't think I have to fight so much. I've grown weary of the carousel... I am more into having jaunts. It's been a while since I've done terrible things like shoplifted or threw a phone..."
On his relationships with women: "I am an only child of a single mother — it probably meant that I'm demanding and have high expectations of women. I look for salvation and redemption, to be utterly embraced.... I don't think you can find it in another human being. It's a ridiculous, romantic and tragic idea that there's someone who's going to save you, that we need our own personal Jesus. Salvation comes from within."