Gallery of Photos of Shirtless David Beckham In The Rain At Wembley, David Beckham Shirtless After Winning England Match,
Shirtless David Wins Man and Manjoyment of the Match!
Last night David Beckham — and his beard — stepped out onto the pitch at Wembley Stadium to play for England in a match against Belarus. David played in the second half of the game, which ended in a 3-0 win for England! He brought some manjoyment to the rainy stadium too as he stripped off his shirt to swap at the end of the match, although he'll be doing less stripping for Emporio Armani underwear now that he and Victoria have been replaced by Cristiano Ronaldo and Megan Fox. Becks was also named Man of the Match, and celebrated afterwards with a rare night out in London, hitting Nobu and then Bungalow 8 before leaving at 3.15am — he must have had a good night out with the rest of the squad!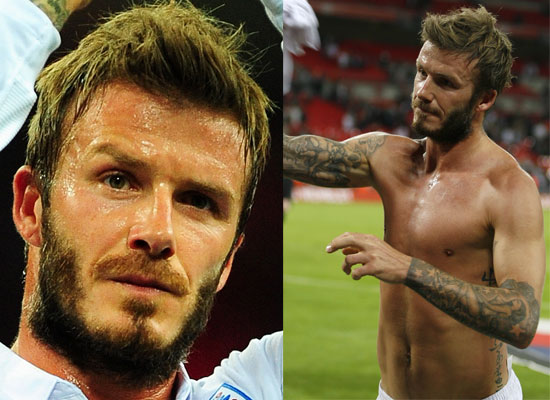 To see more photos of David playing, and then leaving Bungalow 8 last night, just read more.