Gallery of Pictures of Miley Cyrus, Sarah Jessica Parker, Kim Cattrall, Chris Noth, Jason Lewis on Sex and the City 2 Set,
Miley Cyrus and Samantha Play Style Snap on SATC2 Set!
Miley Cyrus filmed her Sex and the City 2 cameo last night in New York city, where a number of the established cast were also ready to shoot. Sarah Jessica Parker was looking groomed under her big coat to ward off the chill, while Mario Cantone, Willie Garson, Chris Noth and gorgeous Jason Lewis ensured that the men were outnumbering the ladies for once! Kim Cattrall was also on set, and judging by the boots it looks like Samantha and Miley may be pulling a Pink and Shakira at the VMAs with their matching outfits! I can't wait to see how it plays out on the big screen!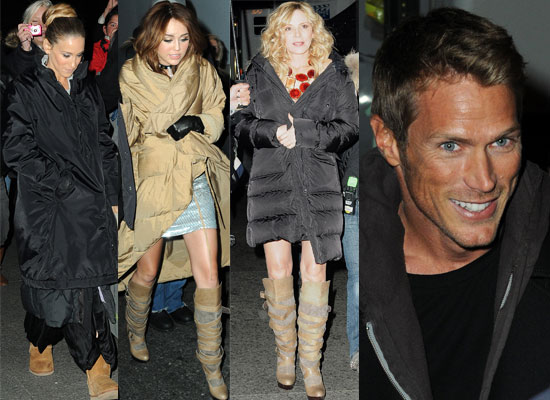 To see more photos from the set, just read more.