Gallery of Pictures of Robert Pattinson, Kristen Stewart, Taylor Lautner and Cast at Eclipse Premiere
Eclipse Black Carpet Is Crowded With Twilight Celebs in LA
The Eclipse premiere black carpet was packed last night, and PopUS was there interviewing the stars! Nikki Reed was escorted by her two brothers as her dates, and wore a feathery Marchesa gown, saying she loves working out with Elizabeth Reaser. Dakota was in a neutral toned Elie Saab dress which she toughened up with some studded Louboutins. Bryce Dallas Howard signed autographs and confessed that her husband was a little intimidated when he saw the crowd, but she said she was having a blast. Her yellow gown and gorgeous red hair were a great combination. Ashley Greene wore a long gown and some light makeup to greet the crowds, a softer look than the dark outfit she wore to Jimmy Kimmel.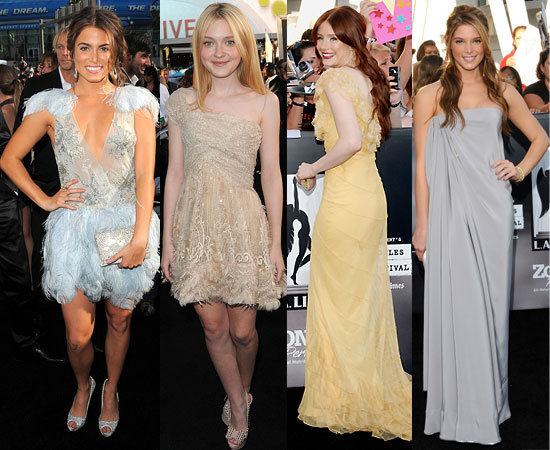 Robert Pattinson, Kristen Stewart and Taylor Lautner were the main focus, as expected. The Twilight trio posed together and signed autographs for as many fans as possible, well beyond the official start time of the screening. Kristen was also making it two nights in a row for high heels and minis, but she happily posed for all the cameras. Rob, on the other hand, was fresh off another week of work with his new leading lady Rosie the elephant. Meanwhile, PopUS has a roundup of celebs who are Team Edward or Team Jacob!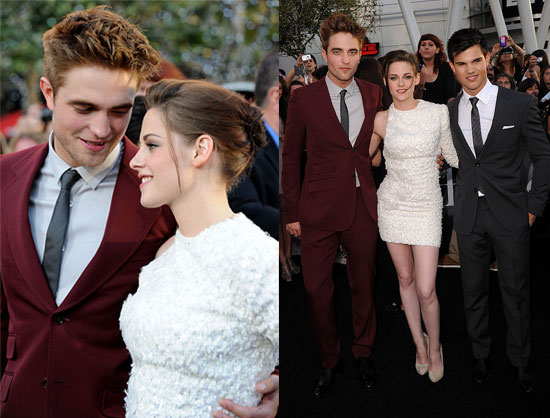 Kellan Lutz brought bikini beauty AnnaLynne McCord as his date and she proudly placed herself on "Team Emmett!" He also brought his extended family, who she stayed close to as he fielded questions. Peter Facinelli took a break from Twitter to visit the camping fans and he kept up his great spirits with wife Jennie Garth on his arm. Alex Meraz posed with Julia Jones as he arrived, while Oscar nominee Anna Kendrick looked gorgeous in a metallic gown.
To see LOTS more from the premiere including Jackson Rathbone, Jaden Smith, Jennifer Love Hewitt, Zachari Levi, Marisa Miller and others read more.
Images include: Alex Meraz, Alex Rodriguez, Anna Kendrick, AnnaLynne McCord, Ashley Greene, Bryce Dallas Howard, Dakota Fanning, Elizabeth Reaser, Jackson Rathbone, Jack Huston, Jaden Smith, Jaime King, Jennie Garth, Jennifer Love Hewitt, Kellan Lutz, Kim Kardashian, Kourtney Kardashian, Kristen Stewart, Lance Bass, Marisa Miller, Nikki Reed, Peter Facinelli, Robert Pattinson, Ron Artest, Stephenie Meyer, Taylor Lautner, Zachari Levi