George Clooney Newsweek Quotes
George Clooney Talks Kissing Babies, Drinking Bong Water, and His Womanizing Past in Newsweek
George Clooney is featured in the current edition of Newsweek magazine to chat about his work in Sudan. The actor's philanthropic work has taken him to Africa on multiple occasions, even landing him a face-to-face meeting with President Obama. George has become increasingly vocal about his humanitarian efforts when he's not on the red carpet or enjoying the luxurious perks of his movie star status. He opened up about his take on celebrity, got honest about his past drug use and womanizing ways, and admitted to feeling "unclean" after Oscar campaigning. Here's more: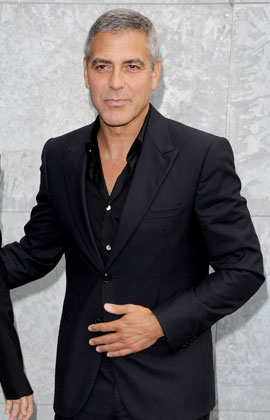 On using celebrity to help: "Celebrity can help focus news media where they have abdicated their responsibility. We can't make policy, but we can 'encourage' politicians more than ever before. There is more attention on celebrity than ever before — and there is a use for that besides selling products."
On being followed by cameras: "If they're going to follow me anyway, I want them to follow me here."
On getting involved in Darfur: "I had just come out of Oscar season — I had two movies up — and you really do campaign, like kissing babies. So by the time it's over, you sort of feel unclean. You want to do something that makes you feel better."
On why he won't run for office: "I didn't live my life in the right way for politics, you know. I f*cked too many chicks and did too many drugs, and that's the truth. That's gonna be my campaign slogan: 'I drank the bong water.'?"
On relief workers: "These guys have a day job that pays them nothing and is dangerous. My day job pays very well, and the worst thing that happens is you get some bad food from craft service."